Exclusive
Inside Kim Zolciak's Marriage: The Truth About Cheating Claims, Fights And More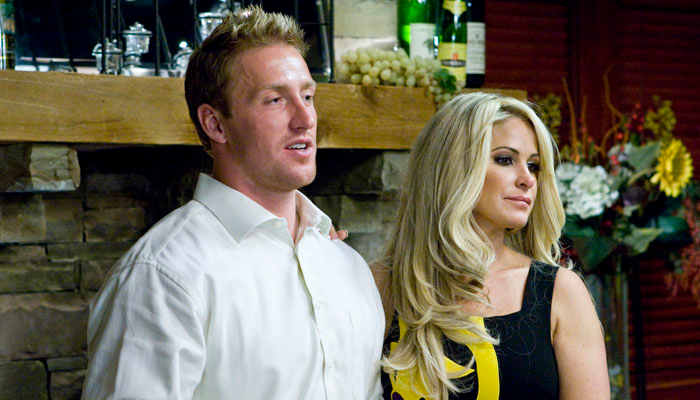 Kim Zolciak's marriage to Kroy Biermann has come under fire and RadarOnline.com is taking a look inside their relationship, including the shocking cheating allegations that surfaced, fights and more.
The Real Housewives of Atlanta star is facing a barrage of bad publicity as her hubby's fidelity is questioned, and while one source said her marriage is "solid" another says she may putting on a brave face to mask trouble behind the scenes.
Article continues below advertisement
"Another day another stupid story!" Kim, 34, tweeted after her hubby Kroy was accused of cheating with ex-Indiana Pacers cheerleader Elizabeth Seward.
Elizabeth gave an extensive interview to In Touch magazine, claiming she and Kroy got hot and heavy after meeting in Indianapolis in January 2010, when he was dating Kim.
"I want Kim to know about it," she said. "It was this whirlwind love-at-first-sight thing."
The 25-year-old moved to Las Vegas in July of that year, but she claimed Kroy was still coming on strong and even flew her out to training camp, where he "told me everything you'd want to hear," she recalled, including: "'You're my girlfriend, we're going to make this work.'"
But she was devastated when just a few days later she saw photos of Kroy and the Real Housewives of Atlanta star together at Cynthia Bailey's wedding.
Article continues below advertisement
Kim's message on Thursday was in complete support of Kroy when she wrote: "Meanwhile my husband and I sit back and laugh!"
A source close to the couple exclusively told RadarOnline.com that despite Elizabeth's claims, Kim and Kroy are not having marital problems.
"They are solid, very happy with each other," the source said about the Don't Be Tardy stars, who have two sons together, Kash and KJ Biermann.
As for the cheating claims, the source said there is nothing to them now.
"Kroy was seeing other women when he met Kim, but once he got serious with her it was over with the other girls."
Another source who is close to the couple said that Kim might actually be worried, despite what she's publicly saying.
"She loves this drama because it gets her attention," the source said.
"I'm sure Kim is worried but she is always going to put on airs and pretend she's not."
Article continues below advertisement
A significant move on Kroy's part is the fact that he filed to adopt Kim's two older daughters, Brielle and Ariana, a move that she certainly wouldn't have allowed if there were strains in their marriage.
Kroy even said at his baby son KJ's christening that he loves the girls like his own.
Kim waged a very public legal battle with her parents Karen and Joe Zolciak, who accused her of cutting them out of her children's lives, and her father previously slammed his daughter to RadarOnline.com.
"Kim has shown a lot of disrespect to her mother," Joe said. "Her mother is very attractive, she looks fantastic and I think that Kim is jealous of her mother!"
When RadarOnnline.com reached Kim's parents on Thursday they declined to comment about her or the status of her marriage to Kroy.