Exclusive
Katherine Jackson Caught in HUGE Contradiction About Michael That Could Sink Wrongful Death Claim -- See The Proof!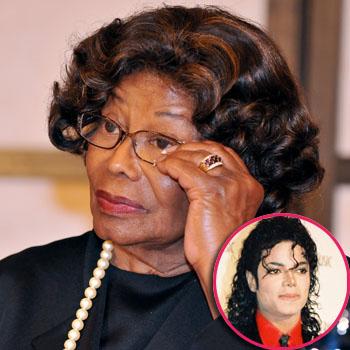 Katherine Jackson has been caught in a huge contradiction about her son Michael's drug use -- a contradiction so big it could sink her $40 billion wrongful death lawsuit against concert promoter AEG, RadarOnline.com is reporting exclusively.
An attorney for Katherine told jurors Monday in opening statements of the Michael Jackson wrongful death trial that the late King of Pop had been addicted to prescription drugs for decades and that Michael's family knew it and only AEG claims to have been unaware of it.
Article continues below advertisement
But RadarOnline.com has exclusively obtained a statement signed by the Jackson family matriarch claiming that her son DIDN'T have an addiction to painkillers or alcohol.
And you can see the proof below, as RadarOnline.com has obtained the signed statement that pokes a huge hole in the argument offered by Katherine's attorney.
In 2007, nearly two years after Jackson had been acquitted of child molestation charges in Santa Maria, California, and two years before his death, Katherine Jackson, Jermaine, Jackie, Tito and Marlon issued a public statement, signed by all five, declaring Michael didn't have ANY substance issues.
They all also declared they had never attempted to stage an intervention on Michael. The statement was released after People magazine published a story that the King of Pop was dependent on booze and pills.
It's a key point because Katherine is suing concert promoter AEG and her attorneys claim everyone knew Michael had painkiller addiction problems -- trying to cast doubt on AEG's claim that it was unaware. Now, suddenly, it seems as if the family's position has shifted to fit the lawsuit.
Article continues below advertisement
The family's statement, issued on September 7, 2007, says, "People Magazine has followed other publications in reporting untrue and inaccurate information about MIchael Jackson and the Jackson family. Of these wildly reported rumors, what has become the most troubling and heinous, is that my son, and our brother, Michael Jackson, is dependent on painkillers and alcohol. People and other news organizations, have quoted "sources," indicating that our family has attempted a drug intervention, and engaged in an effort to take over his business affairs, because of this alleged drug and alcohol usage.
"We categorically deny ever planning, participating in, or having knowledge of any kind of intervention, whatsoever," the statement asserts.
You can read the signed document here:
MORE ON:
Celebrity Justice
Katherine Jackson's attorney, Brian Panish, told jurors during opening statements on Monday in the wrongful death trial, that the Thriller singer had an addiction to painkillers, and that concert promoter, AEG failed to to properly investigate Dr. Conrad Murray. Murray was convicted of involuntary manslaughter in the death of Michael.
Article continues below advertisement
"Over the years Michael's family and people who knew him believed he had a problem with prescription medication," Panish told jurors, and that AEG and its executives claim to be the only ones who were unaware of his issues.
Panish revealed to the jury of six men and six women that Jackson had an addiction to prescription drugs, including Demerol, and relied on pain medications after he suffered horrific burns on his head during the filming of a Pepsi commercial in 1984.
The public statement Katherine signed in 2007, "could prove to be very problematic for her when she takes the stand. It could be used to discredit her testimony in front of the jury. Katherine knew for years before he died that Michael had an addiction to Demerol. AEG doesn't want to rake Katherine over the coals, but she is suing them for $40 billion dollars," a source close to the situation tells RadarOnline.com exclusively.
AEG maintains it did not hire Murray and could not have predicted the events that led to Jackson's death.
A lawyer for AEG, Marvin Putnam, told jurors during opening statements that there was no way the concert promoter could have known that Jackson was being given Propofol by Dr. Murray.
"That was between doctor and patient and not AEG Live… this case is about taking responsibility for your actions," Putnam said.