Exclusive
Fatal Flaw! Jodi Arias' Story Of What Happened When Travis Alexander Was Killed 'Doesn't Make Sense' Says Friend Who Was In House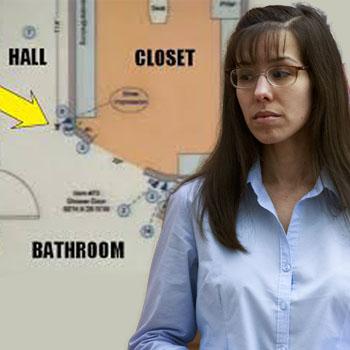 Jodi Arias' description of events the night she killed Travis Alexander simply don't make sense because of the layout of the house, a close friend of Travis' tells RadarOnline.com in an exclusive interview.
Tamara Mauro is extremely familiar with Alexander's house and in fact often cleaned it for him when she needed extra money. While the Arias jury is relying on two dimensional floor plans and photos to try and understand where events happened, Mauro tells RadarOnline.com that Jodi's story is not plausible based on her knowledge of the space.
Article continues below advertisement
"It just doesn't make sense!" Tamara Mauro told RadarOnline.com in an exclusive interview. "Supposedly he lunged at her and she had time to do all this stuff like grab a gun from the closet.
"Realistically, if she gets into the closet and he is over where the shower is it would be much more logical (for her) to run towards the door – which is away from him – rather than back towards him, and then go on the other side of him in order to shoot him in the direction that she says she did," she explained.
Arias told the jury that she was taking photos of Alexander in the shower and dropped the camera. That caused him to fly into a rage and chase her, she claims. Arias said she then ran into his closet, stepped on a shelf to retrieve a gun she claims he kept there. At that point Alexander lunged at her causing the gun to discharge and shoot him in the face.
But Mauro doesn't buy any of it, and says she knows the house so well that anyone would have run out the door not into the closet if they were being chased the way Arias claims she was.
Article continues below advertisement
"It is just ridiculous. You are talking about climbing up on a shelf and doing all of this stuff and he was literally three steps away from you," she said.
"I have been in that bathroom, I helped him paint it, I know it really well. I put laundry away in that closet, I know what it looks like and how long it takes to walk from one end to the other," Mauro said adamantly.
There has been lengthy debate as to whether the shelves in Alexander's closet were strong enough to hold 5'5", 120-pound Jodi as she allegedly climbed to grab the gun that she claims Travis owned. But Tamara revealed that the closet shelves were not that stable.
"It is a California closet set up and are just shelves on pegs like you would get at IKEA, they weren't solid wood or anything like that," Tamara told RadarOnline.com. "I guess if you stood on it just right it could support you but I never tried to do that."
As for the .25 caliber gun that Arias used to shoot Travis in the face, Tamara told RadarOnline.com: "I don't know if he had a gun or not. He never mentioned anything to me and I never climbed up in his closet to go looking."
Article continues below advertisement
The new mom wants the trial to end so Travis' family can get closure.
Said Tamara: "It is hard to watch, when Jodi comes out with something like, 'Oh he did that too!' and I think 'No! There is no way he could possibly of done that and why is she throwing it out there? How does that have anything to do with all of this?'
"The most shocking thing she has said is the whole thing about him masturbating to pictures of little boys. After that I stopped listening to anything she had to say as there is no way that could have happened.
"She talks about walking in on him when she was cleaning his house… I cleaned it too, and if I walked into his room he was usually laying on the bed listening to some motivational CD and mediating to it.
"Everything has been going on for so long and it has gotten so ridiculous in terms of everything that has been said," she explained. "In the end it is almost not about truth but about who can present it better and how you interpret the laws. It's been too dramatized and too traumatic for the family."