Exclusive
Still Single! Jennifer Lawrence's Dinner Date With Ex-Boyfriend Was Not Romantic, Just Friendly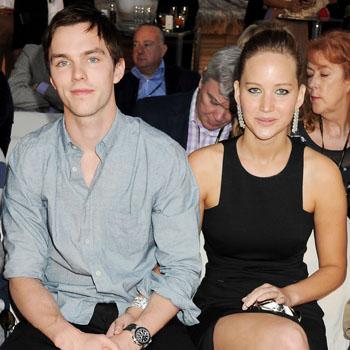 Despite being spotted out at Los Angeles eaterie The Little Door with Nicholas Hoult Monday, RadarOnline.com has exclusively learned that Jennifer's dinner date with her ex-boyfriend was nothing more than a friendly catch-up!
With Nicholas, 23, living in London and Jennifer, 22, in Los Angeles the two rarely see each other and this was just an opportunity for the good pals to chat.
"Jennifer and Nicholas are not back together, their dinner date was innocent ," a source tells Radar.
Article continues below advertisement
"They are still very close friends, despite their break up, and regularly text or phone each other from across the pond. With Nicholas being in Los Angeles for business meetings, it gave them the chance to get together and catch up on what's going on."
According to the insider, neither Jennifer nor Nicholas is ready to jump back into a relationship.
"Both of them are so busy with work right now that they just don't have time to commit to a relationship. But they still want to remain close friends, simply because they just love each other's company so much," the source said.
"They're not ruling out getting back together in the future, but for the moment they are just very close friends."
As RadarOnline.com previously reported, Jennifer hasn't been seeing eye-to-eye with pal Bradley Cooper about his new girlfriend, Suki Waterhouse while on the set of director David O. Russell's new Abscam scandal movie.
In fact, she was jealous that the Hangover hunk was spending more time with Suki, 20, instead of her!
MORE ON:
Celebrity Romance
Article continues below advertisement
"When Bradley and Jennifer made Silver Linings Playbook and Serena together they were inseparable," a source told Radar.
"But now, Bradley has been spending his free time with Suki, and she feels like she's lost her partner in crime."
The source continued, "They haven't been hanging around each other as often as they used to. Bradley flew Suki over from London to Boston and he took her on a tour of the city. Then, he flew to Paris to see her the moment he had a break in filming.
"Because he's spending all his free time with Suki, Jennifer's only really seen Bradley on set and she's grown a little jealous about it."