Oh, Baby!?! Jennifer Aniston's Billowing Dress Causes Major Pregnancy Rumors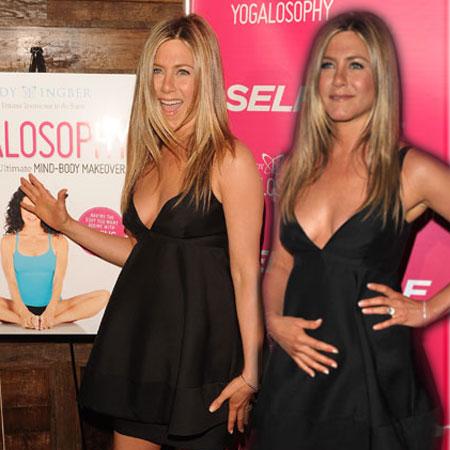 Jennifer Aniston has one of the best bodies in Hollywood, so when she wears a billowing dress that flares out around her stomach rumors start flying (again) that she's hiding a baby bump.
The 44-year-old actress celebrated her beloved yoga instructor Mandy Ingber's new book wearing her typical uniform of an LBD, but the poufy dress raised eyebrows at the event hosted by SELF magazine, and RadarOnline.com has the photos of her questionable outfit.
Article continues below advertisement
Jen was sporting her gigantic engagement ring from her fiancé Justin Theroux and her legs looked skinny and tan, but it was her flowing dress that wasn't form fitting that got all the attention at the event.
The Horrible Bosses actress has expressed a desire for children and said in the past that when she is pregnant she will definitely share the information with the world.
"I'll be singing from the mountaintop," Brad Pitt's ex-wife said in a past interview.
Jen admitted that she will gladly reveal the good news.
"Let me have the moment where I get to say, yes, in fact, I'm having a baby."
Babies before brides is nothing new in Hollywood so Jennifer certainly wouldn't be alone if that's the path to motherhood she ever decides to take.