Jaden Smith, Emancipation? Dad Will Laughs Off Rumors, Saying 'I Made A Joke'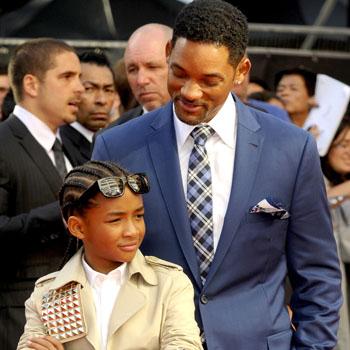 Will Smith insists that he isn't letting Jaden move out of the family home anytime soon.
After a British newspaper quoted the After Earth star as saying that his son wanted to get emancipated so that he could buy his own house and live alone, Will laughed it all off on the Late Show with David Letterman on Monday night, claiming that he was just joking!
"I was in Tokyo or something where I made a joke about him being emancipated and that kind of took off," Smith, who also treated his fans on the late night show to a freestyle rap of his 1991 hit song Summertime, said.
Article continues below advertisement
"If he had a movie that's bigger than my movies, then he can go ahead," he later joked about the prospect.
The father-son duo also addressed the issue on The Ellen DeGeneres Show last week.
"The thing that people don't get is everything at this house is free," Jaden said to Ellen, So I can get anything and everything at his house, so I'm going to be there 20, 30 more years. He Will Smith says as soon as I have a movie that's bigger than one of his movies I can get my own house."
MORE ON:
The Ellen DeGeneres Show
"He says, 'Dad, I want to be emancipated.' I know if we do this, he can be an emancipated minor, because he really wants to have his own place, like 'Ooh,'" Will was quoted as saying to The Sun.
"That's the backlash. On the other side, if kids just want to have command of theirlives, I understand."