The Police Interrogation: Ariel Castro Showed No Remorse, Blamed Victims & Called Himself 'Cold Blooded'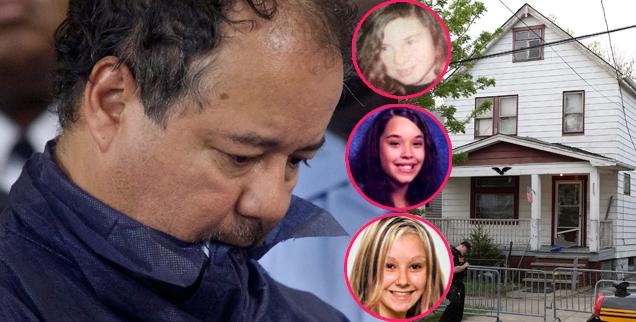 Ariel Castro remembered the days he kidnapped Amanda Berry, Gina DeJesus, and Michelle Knight with precise details, recalling what the girls were wearing, how he met them and took their freedom.
During a police interrogation before he was arraigned, Castro blamed the victims for their own plight and was described as "cocky" and trying to control the interview, sources told WKYC-TV.
And as a prosecutor mulls filing charges that could lead to the death penalty, details from the police interview reveal a man who showed no remorse for torturing and raping three women during a decade in captivity.
Article continues below advertisement
Castro even called himself "cold blooded."
Berry and DeJesus have been reunited with relatives and are said to need more time to adjust before giving in-depth details to police about their ordeals.
PHOTOS FROM ANOTHER SHOCKING CRIME: Inside The Home Where Jaycee Dugard Was Held Captive
Knight, however, was recently readmitted to Metro Health Medical Center because Castro beat her so badly she needs facial reconstruction. And her grandmother told reporters that Knight has suffered loss of hearing in one ear.
She has not wanted visitors.
Meanwhile, new reports confirm Castro did plenty of talking to authorities, and the "only remorse he showed during the interview was remorse he got caught," the station reported.
He told police that he is a sex addict with no control over his own impulses, mirroring what he apparently wrote in 2004 in a letter found in the house at 2207 Seymour Avenue. Several reports say he claims he was abused by a relative.
Article continues below advertisement
Now Castro sits behind bars in isolation in Cuyahoga County Jail. He's being watched 24/7 as a suicide prevention measure.
But while Berry, DeJesus and Knight will try to recover from the memories of their decade of hell, Castro recounted them in great detail during his police interview, sources told the TV station.
radar_embed service=5min.com src="http://pshared.5min.com/Scripts/PlayerSeed.js?sid=1126&width=570&height=351&playList=517775136&sequential=1&shuffle=0"
He told how he brought the newly abducted women home and chained them in the basement. Later he allowed them in upstairs bedrooms, keeping them apart.
But the women still managed to interact, form a bond and help each other survive. Knight even delivered Berry's daughter, with Castro threatening to kill her if the baby did not survive.
His own family members are now calling Castro a monster, while prosecutor Timothy McGinty says he will attempt to get a grand jury to indict Castro for "aggravated murder" because he terminated the pregnancies of his captives after raping them.
radar_embed service=5min.com src="http://pshared.5min.com/Scripts/PlayerSeed.js?sid=1126&width=570&height=351&playList=517775761&sequential=1&shuffle=0"
"The horrific brutality and torture that the victims endured for a decade is beyond comprehension," McGinty said.
And if the prosecutor is successful Castro will face the death penalty.
Castro's daughter Angie Gregg now realizes she was inside the house, while her father held the women captive. "I'm horrified," she told CNN. "I never want to see him again."