He's Jacked & Vein! Hugh Jackman Shows Off Bulging Biceps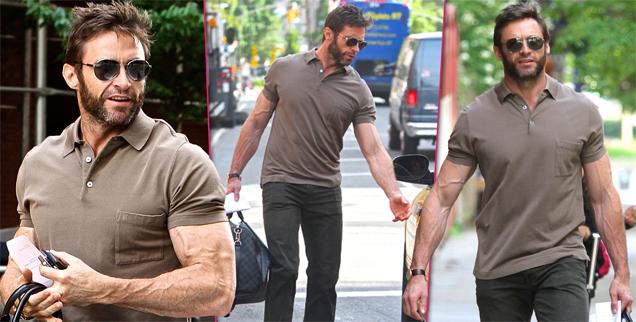 Hugh Jackman is seriously getting into his Wolverine character!
The 44-year-old actor, who is currently filming X-Men: Days of Future Past, showed off his jacked up physique on the streets of New York City this week – and RadarOnline.com has all the photos.
Wearing a fitted beige polo shirt with olive colored slacks, the Australian-born star grabbed attention with his bulging biceps, complete with protruding veins.
Article continues below advertisement
He recently revealed his dramatic diet and workout to Entertainment Weekly.
"I'm quite a skinny person by nature so I'm eating ridiculous amounts of food. I quite like everything I ate, but it's more bland. It's chicken breast, but steamed and no salt, and steamed spinach," Jackman admitted.
"What I do is I eat everything in an 8-hour period…It's called the 16-8 diet. For 16 hours of the day I fast, so I don't eat. So between 10 in the morning and 6 at night — this is why I'm burping because I ate a steak literally before I came out — I eat 5,000 calories and then I eat nothing," Jackman said.
"I literally talk to myself like I'm training: 'One more mouthful, come on man, you can do it. Just one more mouthful. Half a chicken breast to go and you've got it! Only two meals left.'"