Exclusive
George Zimmerman Murder Trial Strategy: Lawyers Want Jury Of Older People, Professionals And Retirees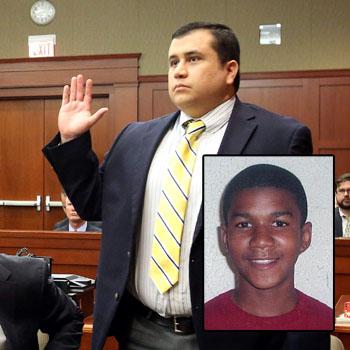 Lawyers representing George Zimmerman, the the former Neighborhood Watch Volunteer accused of shooting and killing unarmed 17-year-old Trayvon Martin, believe their case will be won or lost during jury selection, which is scheduled to begin on June 10, RadarOnline.com is exclusively reporting.
Mark O'Mara, Zimmerman's lead criminal defense attorney, "is focused on seating the best jury possible that would likely acquit his client. This will be the most important part of the case, it will call come down to jury selection," a source close to the situation told RadarOnline.com.
Article continues below advertisement
"The case will be won or lost before opening statements. The defense's ideal juror would be an older working professional, or a retiree, and someone who hasn't been following the case in the media."
The 28-year-old could face life in prison for the shooting death of the teen from Sanford, Florida.
The case has caused outrage across the country since the tragic shooting took place last year.
Zimmerman, is facing a second degree murder charge for shooting Martin.
As RadarOnline.com previously reported, Zimmerman wants to testify in his defense at the trial.
"George is ready and willing to testify," a source previously told us. "George feels that the jury needs to hear from his own mouth what really happened leading up to the shooting.
"George maintains it was absolutely self-defense. Normally, criminal defense attorneys don't want to put their client on the stand, but in this case, Mark O'Mara (George's attorney) feels so strongly in the evidence, and in his innocence, he would be inclined to allow him to testify.
"The decision to put George on the stand won't come until the prosecution rests their case," the insider added.
Earlier this week, Judge Debra Nelson ruled that Zimmerman's lawyers couldn't mention Trayvon's suspension from school, marijuana use, or past fighting during opening statements. The judge also denied the defense's request for a delay in the trial.
The jury won't be sequestered as requested by O'Mara, and a gag order the prosecutors were seeking barring lawyers from discussing the case with the media, was also denied.