'Teen Mom' Monsters! Farrah Abraham Uses Her Daughter As A 'Prop' While Drug Charges Stack Up Against Jenelle Evans -- The Inside Story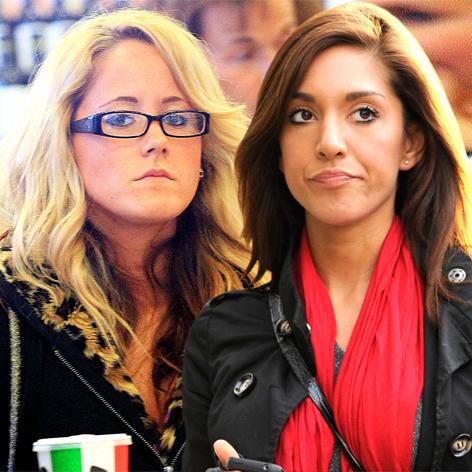 Teen Mom stars Farrah Abraham and Jenelle Evans have been in a war of words with each other recently -- both have claimed the other isn't a fit parent -- but the two reality starlets are now facing more serious accusations: claims that one of their children is a prop, while another has drug charges stacking up against her.
The girls both shot to fame after starring on the MTV reality series, but their lives have gone in downward spirals recently, with Farrah's sex tape sold for over $1.5 million and Jenelle facing another round of legal trouble after being arrested for heroin possession and assault.
Article continues below advertisement
While 21-year-old Farrah was shopping her sex tape around to Vivid Entertainment boss Steve Hirsh, she took her little daughter Sophia, 4, with her to the adult film headquarters.
"I am not comfortable with a child in my office during a sex tape negotiation," Hirsh told the latest edition of Us Weekly magazine.
The little girl reportedly colored by herself in the lobby while her mommy negotiated the deal for her XXX video!
According to Sean Daly, co-author of Teen Mom Confidential, Farrah uses Sophia as a prop, which the MTV crew witnessed frequently.
"When the cameras are rolling, Farrah holds her hand and smiles," he said. "Otherwise, she pawns her off to neighbors or to any around so she can go party."
Jenelle, 20, is another troubled Teen Mom alumna. After being arrested for the ninth time a few weeks ago, she is facing up to seven years in prison if she's convicted of the possession of heroin and assault charges.
MORE ON:
Celebrity Justice
Article continues below advertisement
However, Jenelle has denied that the drugs were hers and pointed the finger at her husband, Courtland Rogers, who was also arrested on the same day. Cops allegedly found 12 bindles of heroin in their home.
She hasn't had custody of her young son Jace since he was six-weeks old, but unlike Farrah, who was such a diva on set that one crew member quit, the production company is rooting for Jenelle.
Show producers set up a trust fund for Jace, Daly told the magazine, while crew members also gave her Olive Garden gift certificates so she can eat and not spend the money on drugs.
"Jenelle is a sad case but can be really sweet," a source said about her. "Everyone wishes she could get her act together."