Exclusive
Sorry, Lindsay! Lohan's Last Minute 'Rehab Switch-A-Roo' Will NOT Be Approved By D.A.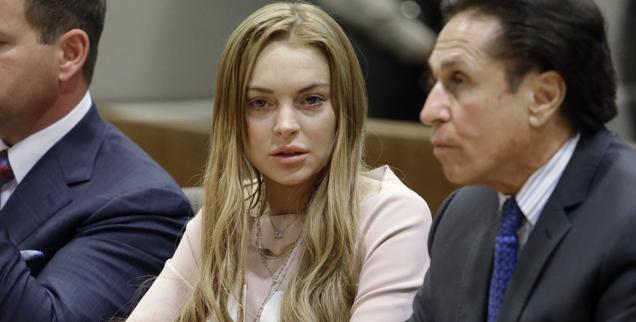 Prosecutors overseeing Lindsay Lohan's 90-day rehab treatment at controversial Morningside Recovery in Orange County, California will NOT permit the embattled starlet to continue treatment there because of numerous concerns at the facility -- those issues include lack of security and not thoroughly searching patients visitors for drugs and alcohol, RadarOnline.com is exclusively reporting.
In a stunning revelation, Morningside Recovery had its license to provide residential treatment revoked last year, but the facility is certified to provide outpatient treatment, according to a rep in the licensing office of the California Department of Alcohol and Drug Programs. "Morningside can't provide residential treatment to anyone, but they can provide outpatient services," the rep told RadarOnline.com.
Article continues below advertisement
Meanwhile, prosecutors were facing ANOTHER unexpected turn of events Thursday when Lohan walked in and right out of Morningside! RadarOnline.com has exclusive details here of the bizarre situation.
As we previously reported, Lohan was ordered to rehab for 90-days as part of a plea agreement reached in her lying to cops case.
Los Angeles City Attorney Terry White -- who expressed his dismay in court Thursday morning over Lohan's last minute decision to enroll in Morningside, after another facility had already been signed off -- "absolutely won't approve this facility for Lindsay to do her 90-day treatment. The lack of proper licensing, along with the lack of security and not properly searching guests of patients for drugs and alcohol are just a few reasons why a hearing will be scheduled to determine where she should be sent."
MORE ON:
Celebrity Justice
Lindsay is currently living at one of Morningside's sober living facilities in Orange County. The facility owns numerous houses. Morningside transports patients from the sober living houses to their offices for outpatient treatment, including group therapy, and individual counseling sessions," a source told RadarOnline.com exclusively.
Also bothersome to prosecutors is field trips that patients take to nearby Disnelyand! Treatment at Morningside starts at $35k a month!