Pantyless in Cannes! Eva Longoria Has Embarrassing Wardrobe Malfunction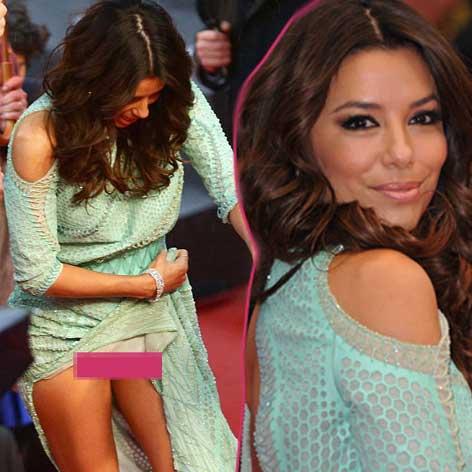 Eva Longoria is one of the best at red carpet glamour but rain at the Cannes Film Festival got the best of her Saturday.
The former Desperate Housewives star attended the premiere screening of Benecio del Toro's Jimmy P. (Psychotherapy of a Plains Indian) in a stunning mint green gown, slit high on one side.
She would have been her usual sexy self except for the rain and the puddles.
Trying to avoid a slip, Eva lifted up her gown right at the highest point of the side slit, revealing she had no underwear on and completely exposing herself.
Article continues below advertisement
The actress, who has been tweeting EvaLongoria almost nonstop since arriving in Cannes, didn't mention the humiliating mishap to her fans.
On Sunday, she simply wrote, "Yay sun is back out in Cannes!!"