Dr. Drew Compares 'Teen Mom' Jenelle Evans To Lindsay Lohan, Says XXX-Rated Farrah Abraham 'Making Horrible, Horrible Choices'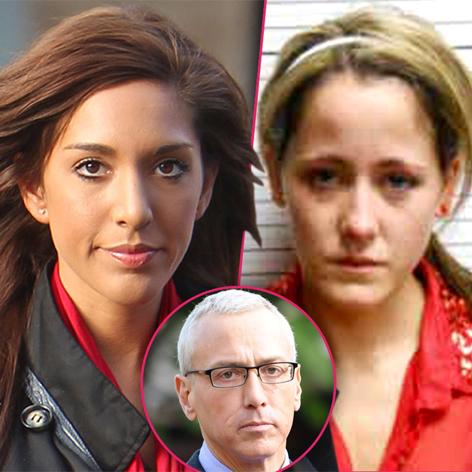 Dr. Drew, the TV doc who counsels young mothers on MTV's Teen Mom, says Farrah Abraham, the one-time poster child of the top-rating program, is making "horrible" decisions about her life.
In a new interview, on the heels of the 21-year-old's decision to sell a sex tape for $1.5 million, Dr Drew said: "If she would have called me for advice, I would have told her not to do this."
"But she is not my patient, she is not my kid," the MTV/VH1 and HLN star told radio program Zach Sang & The Gang.
Article continues below advertisement
"Farrah is making horrible, horrible choices. Let's say she takes that $2 million and opens a restaurant, which has always been her dream, how are you going to talk a 21, 22-year-old out of that? I just don't know."
In a statement after the sale of her tape, entitled Farrah Superstar: Backdoor Teen Mom, the single mom alluded to using the financial windfall to support her "culinary business endeavors."
"I am very pleased with the outcome and to have this opportunity to be an entrepreneur in another unexpected light in my life," Farrah said.
Dr. Drew also weighed in on Farrah's troubled costar Jenelle Evans, likening her to Lindsay Lohan, the actress who checked into 90 days of court-ordered rehabilitation on Thursday.
"Jenelle, I don't think, would be any different whether she was on Teen Mom or not. She needs long term treatment. She is a Lindsay Lohan style situation," he said.
Evans was arrested last month for alleged heroin possession, possession of paraphenalia and assault on husband Courtland Rogers.
Dr. Drew lamented the pair's recent headline-making issues, but said he was often powerless to effect change on the young women, noting: "I am going to give them messages they don't want to hear and then they don't call me back."