Exclusive
Debbie Rowe Attempts To Reconcile With Prince Michael Jackson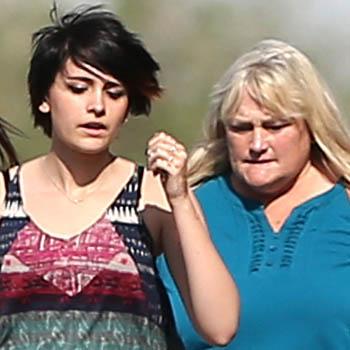 Michael Jackson's ex-wife, Debbie Rowe, has reached out to her biological son, 16, in an attempt to reconcile after years of estrangement, RadarOnline.com has learned.
Rowe – who was married to Jackson from 1996 to 1999 – recently invited Prince Michael to join his sister, 15, at her Palmdale, Calif., ranch, about an hour outside Los Angeles.
"Debbie is anxious to spend some quality time with Prince," a family insider told RadarOnline.com.
Article continues below advertisement
"She personally made the invitation to Prince for him to go up to Palmdale at her ranch. The ranch is the perfect place for mother and son because it offers privacy from prying eyes."
However, "Prince made it known that he isn't ready to hang out with his biological mother — just yet."
Said a source: "He is open to the idea, but wants to do it on his terms, which Debbie understands and fully supports."
The insider added that Prince Michael "just doesn't feel that he needs a mother figure in his life right now because he has his grandmother and aunt LaToya."
As RadarOnline.com previously reported, Paris and her mother have bonded over recent weeks -- so much so, she told her 83-year-old grandmother Katherine that she plans on spending a large chunk of her summer vacation at the ranch, where Rowe breeds horses.
"She might go to summer school for the first month of vacation, but will be with Debbie on the weekends and plans on being with her mom in July and August," a source said.
"Paris wants to spend as much time as possible with Debbie and this is the perfect time."
Rowe gave her pop star husband sole custody of the children in the divorce.