Brandi Glanville Rips LeAnn Rimes' New Album: 'These Are The Worst Songs I've Ever Heard'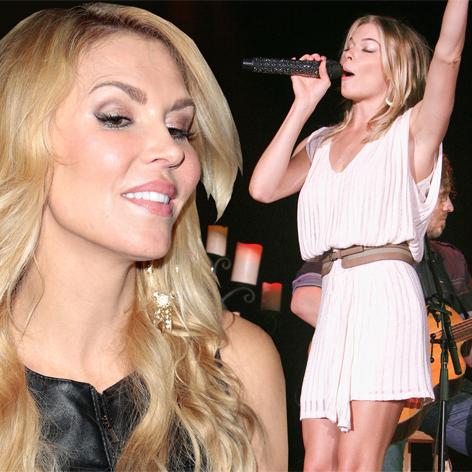 LeAnn Rimes has a new album coming out that she's hoping will top the charts but her arch enemy Brandi Glanville does not mince words when she rips into her by saying "these are the worst songs I've ever heard."
The most famous feud is Hollywood is heating up as LeAnn's next album Spitfire is set for release on June 4 and while Brandi had one small compliment for her children's stepmother she blasted her in every other way possible.
Article continues below advertisement
"LeAnn has a great voice, but she needs to work on her songwriting," Brandi told In Touch magazine.
"I'm surprised it's so bad."
LeAnn's affair and then marriage to Brandi's ex Eddie Cibrian is something that neither woman can put behind them, and the song Borrowed is LeAnn's latest attempt to reveal more about the salacious relationship.
The lyrics read: "I know you're not mine, only borrowed / 'Cause you already belong to her, at least, you said so / But I'm starting to believe it ain't the whole truth," which Brandi quickly slammed.
"She's not going to win any fans by writing a song about breaking up a family. It's old news — no one wants to hear you cry over getting everything you wanted."
Predicting that it will not be a chart blockbuster, Brandi got a dig in about LeAnn's fading star.
"If LeAnn wants her career back, she needs better lyrics. These are the worst songs I've ever heard. No one wants to listen to this!"