Boston Bomber's Widow Katherine Russell Told Their Daughter, 'Daddy's Gone To Heaven'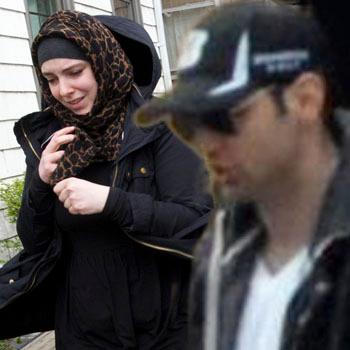 The death of a parent is hard for any child to comprehend, but it is almost impossible when Daddy was the Boston Marathon bomber suspect.
Katherine Russell was left a widow and single mother after her husband Tamerlan Tsarnaev was fingered for the April 15 explosion at the marathon and she has been forced to tell her three-year-old daughter what happened.
"Daddy has gone to heaven and he still loves her very much," is the message Katherine told Zahara after Tamerlan was killed in a shootout with police in Watertown, Massachusetts, a relative revealed to People magazine.
Article continues below advertisement
"She broke the news as gently as possible, but Zahara wants to know why."
The reasons that led to Tamerlan's dramatic and violent death will be a lot harder to explain for Katherine, 24, who family members claim was "blindsided" by the deadly plot that he and brother, Dzhokhar Tsarnaev, masterminded, but the FBI is are still investigating how much the Islamic convert really knew.
On Monday, federal agents visited the Russell family home in North Kingstown, Rhode Island, after female DNA was found on at least one of the bombs in the deadly blast. They later left carrying a number of bags, including one that was clear plastic with "DNA" stamped on the side.
MORE ON:
Katherine Russell
Three "additional suspects" have now been taken into custody in connection with the attacks at the marathon, with details still developing.
Bella Tsarnaev, one of Tamerlan's sisters, told in her first public statement that she and her sister Ailina have planned a proper Muslim burial for Tamerlan. The brothers' uncle, Ruslan Tsarni, told The Associated Press on Tuesday the family would take the body.
"We will do it," he said. "A family is a family."