Beyonce Endorsing Clothing Company Linked To Southeast Asian Sweatshops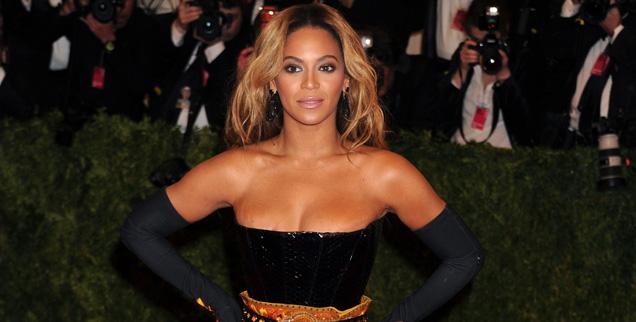 Beyonce is the face of H&M, a Swedish clothing manufacturer with a checkered record in their use of Southeast Asian sweatshops -- and the inhumane labor conditions that go on there.
Cambodian factory worker Srey Nit told this week's edition of Star about the grueling pace workers must keep in producing goods like the ones the Irreplaceable singer promotes for H&M.
"Sometimes we are required to work from morning to morning," said Nit, 22. "They say, 'We are in a hurry.'"
Article continues below advertisement
Director of the Institute for Global Labour and Human Rights Charles Kernaghan told Star that working conditions at two H&M factories he'd audited in Bangladesh were "ridiculous," and some of the worst he's ever seen. (Last month, a factory collapse there left 1,127 people dead.)
"There was child labor, people were being beaten, cheated of their wages -- and wages were very, very low," Kernaghan said. (Swedish investigative program Kalla Fakta estimated average monthly wages at $61.)
Equally mortifying, according to Kernaghan, was the rampant sexual harassment going on in the sweatshops, as "male supervisors would constantly press young women to have sex with them."
Clean Clothes Campaign coordinator Christa Luginbühl said H&M is contradictory in it's claims their wares "are made with responsibility for people and environment.
"Hundreds of overworked and malnourished workers faint during their daily work," Luginbühl told Star, adding, "A fashion collection cannot be 'conscious,' 'sustainable,' or 'responsible' if a producer denies garment workers the basic human right for a living wage."
Article continues below advertisement
The Houston-born stunner, who signed a multi-million dollar endorsement pact with H&M, should have used her influence to try and reform within the dysfunctional, dangerous garment industry, according to Fair Trade Campaigns Director for Green America Elizabeth O'Connell.
"Beyoncé has more power than she knows ... she could have agreed to continue only if H&M agreed to change the working conditions of its overseas garment factories," O'Connell said. "Celebrities should look past the dollar signs and become aware of what the company is actually selling."
An H&M spokesperson tells Radar, "We believe the article published in Star magazine dated June 10, 2013, misconstrues and ignores the important efforts undertaken by H&M to provide workers in our suppliers' factories with the better and safer work environments. On May 13, 2013, H&M was the first retailer to sign the Accord on Fire and Building Safety in Bangladesh, initiated by IndustriALL Global Union and UNI Global Union, which now includes 18 other brands and employer associations in the sector. H&M is also committed to improving the daily lives of those workers through its push for annual salaries revisions. All of this information and more is available to the public on our . H&M strives to conduct its business in a responsible and transparent way."
For more on this story, check out this week's issue of Star.