Exclusive
Amanda Bynes Bows Head As Officer Leads Her Into New York Court, Following Arrest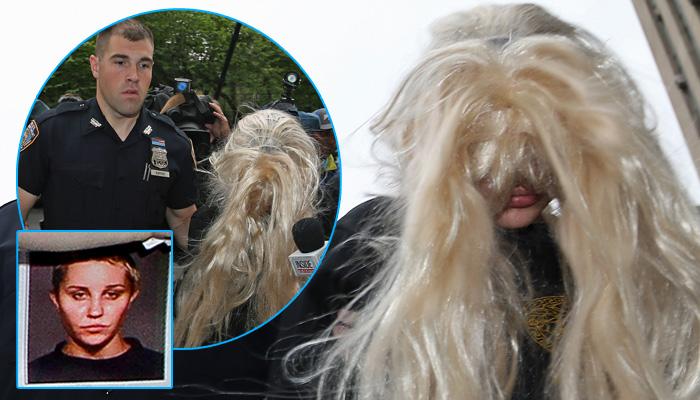 We've got brand new shots of Amanda Bynes' march into court following her arrest in connection with criminal possession of marijuana, reckless endangerment and felony tampering with physical evidence and in New York City Thursday.
Bynes bowed her head, which was covered by a long bleach blonde wig, as an officer led her into the building. A NYPD spokesperson confirmed to RadarOnline.com that the ex-Nickelodeon star was booked for the aforementioned charges.
Article continues below advertisement
The 27-year-old's mug shot has also been revealed, a photo where she had to remove the wig and expose her hacked blonde hair.
As we previously reported, police said they initially responded to a report of a disorderly person -- a caller told authorities Bynes was rolling a marijuana joint, and smoking it -- in the lobby of The Biltmore on W. 47th St.
When officers arrived at her midtown Manhattan apartment, on Thursday night around 7:40 p.m., and confronted her about the reports, Bynes threw a foot-long bong out the window as they watched. She was taken to the Roosevelt Hospital for a psychiatric evaluation, as well, officials said.
As RadarOnline.com was first to report, Bynes' escalating disturbing behavior has been fueled by drugs smoking a large amount of pot, but according to one source, "It makes her more paranoid instead of mellowing her out."