Exclusive
Octo-Mom Had Plexiglass Window Installed In Bedroom Door To Lock Kids In & Keep An Eye On Them!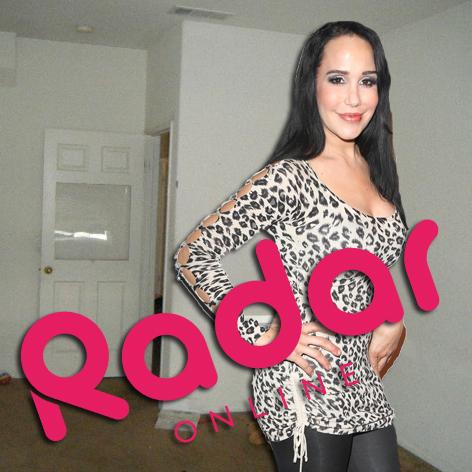 Not only did Nadya "Octo-Mom" Suleman keep her kids living in a house of squalor, but RadarOnline.com has exclusively learned the mother of 14 had a special plexiglass window installed in one of the bedroom doors so she could lock the children in there and still keep an eye on them.
The window, approximately 20"x20", was installed in the Palmdale, Calif. home she rented for six months before fleeing in the middle of the night after receiving an eviction notice for not paying April's rent.
Article continues below advertisement
RadarOnline.com has obtained exclusive photos of the bedroom door with the plexiglass window — which was located near the front of the home down a long hallway leading to the garage — and it's clear that the lock for the door is on the outside handle and the inside of the room was left in disarray.
"Nadya had the window installed for one of her children specifically because he has some issues and she can't handle him," an insider revealed.
"But it wasn't rare for her to lock more than one in at a time when she didn't want to deal with them. It's really sad, like she had them locked in her own makeshift prison cell or something!"
As RadarOnline.com reported when Octo-Mom was living in the La Habra, Calif. home last year, the 37-year-old mother would prop a chair under the outside door handle to keep the kids locked in a room — but it seems she upgraded with the move to Palmdale!
Article continues below advertisement
Although having a window in a door with a lock on the outside is not illegal, it's unclear whether the Los Angeles County Child Protective Services were aware of the "special room" when they visited her home last November, or even questioned Octo-Mom about it.
Having left the Palmdale rental home in horrendous condition; with fast food containers strewn all over, moldy food that was left out for days and even weeks, carpets covered in stains, stickers and drawings on almost every wall, alcohol and beer bottles everywhere, broken banisters, the kids' schoolwork and artwork, hoards of dirty clothes and an empty box for a BB gun, the landlord has had to hire an outside company to clean up the squalor.
"All I can say is that we're going to need a lot of Febreze to get the smell out of this place," the landlord exclusively told Radar.