Exclusive
'They Don't Call Her Blo-han For Nothing': Blogger Takes Swipe At LiLo After Dad Michael Leaps To Her Defense Against Cocaine Claims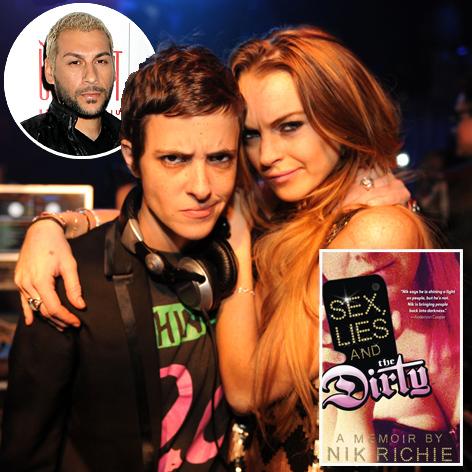 A bitter war of words has erupted between Lindsay Lohan's father and the man who used his tell-all memoir to accuse Lindsay of doing drugs during a paid celebrity appearance at a Miami nightclub.
In Sex, Lies & The Dirty, TheDirty.com founder Nik Richie claimed Lohan, 26, shamelessly snorted an "uneven line of coke off her wrist" in a bathroom and in front of him at Mansion Nightclub in Miami, Florida, while her hapless ex-girlfriend Samantha Ronson deejayed on New Year's Eve 2009.
Article continues below advertisement
It prompted the Lohan patriarch to fire back at Richie. In a statement to RadarOnline.com, Michael charged: "No wonder the title of the book is Sex, Lies & The Dirty because I don't believe any of it for a second."
Richie — who also starred in VH1′s Couple's Therapy — retorted late on Thursday night, saying: "For anyone to think she was sober that night must be smoking crack. They don't call her 'Blo-han for nothing."
"I have no reason to lie," the man who is married to ex-The Bachelor winner Shayne Lamas added.
"Lindsay Lohan was an actress at one point in her career. Now she is the poster child of what drugs do to a celebrity and this event happened during her downward drugged-out spiral."
In addition to Michael, Richie also took aim at the Mean Girls star, who, via her rep, suggested Sex, Lies & The Dirty was an "obvious attempt at using Lindsay to boost book sales."
Article continues below advertisement
"I can give two sh*ts about Lindsay Lohan," Richie insisted. "She was just another chapter of life and I learned about failures that night as I watched her snort away her life."
In the excerpt, first published on RadarOnline.com, Richie wrote how the incident left him freaked out because it was "too much, too real."
"The PR girl opens the bathroom door for us to walk through and stands guard outside," he said.
"It's candlelit, but the light makes my pupils shrink. Lindsay goes straight for the toilet, pulling her dress up and sitting (no underwear) and one of her breasts is hanging out the top of the dress.
"I start to wash my hands and she asks me, 'So, what's your story?' before doing an uneven line of coke off her wrist. "I say, 'Nothing… just, y'know… partying.'"
Richie added, "I'm watching Lindsay do coke to my right, that pale t*t hanging out, and it takes a couple of seconds to kick in that it's intentional. I'm supposed to see this. She wants me to. And she's doing more coke, raising her eye-brows at me like, 'Want some?' She sniffs. Snorts. She swabs a little in her mouth and I've heard about this kind of thing on TV and in the papers, but it's different seeing it: the chick from Mean Girls doing blow on the toilet next to me. She's not the same girl anymore. Something's changed. She's lost her way and seeing it is freaking me out."
Lohan is due to enter three months of court-ordered rehabilitation on May 2.
radar_embed service=5min.com src="http://pshared.5min.com/Scripts/PlayerSeed.js?sid=1126&width=570&height=351&playList=517756487&sequential=1&shuffle=0"