Exclusive
'Don't Lie!' Michael Lohan Blasts Blogger Nik Richie Over LiLo Cocaine Claims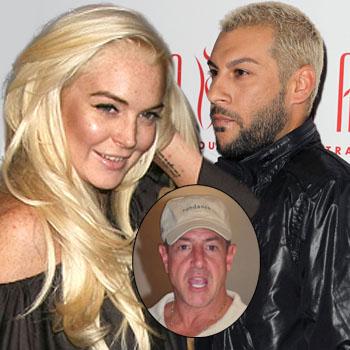 Lindsay Lohan's outspoken dad has, in the past, been one of his daughter's chief critics.
But when it comes to one certain claim -- that she blatantly snorted cocaine off her wrist in a bathroom during a paid appearance at a Miami nightclub -- Michael Lohan thinks the story is nothing but total baloney.
"No wonder the title of the book is Sex, Lies & The Dirty because I don't believe any of it for a second," the Lohan patriarch told RadarOnline.com, responding to an excerpt of Nik Richie's tell-all memoir which detailed the supposed incident at Mansion Nightclub on New Year's Eve 2009.
Article continues below advertisement
According to Richie, founder of ,he walked into the bathroom at the beachside hot spot and saw Lohan, then 22, going "straight for the toilet, pulling her dress up and sitting (no underwear) and one of her breasts is hanging out the top of the dress."
He wrote,
"I start to wash my hands and she asks me, 'So, what's your story?' before doing an uneven line of coke off her wrist.
I say, 'Nothing…just, y'know…partying.'"
Richie continued, "It takes a couple of seconds to kick in that it's intentional. I'm supposed to see this. She wants me to. And she's doing more coke, raising her eye-brows at me like, 'Want some?' She sniffs. Snorts. She swabs a little in her mouth and I've heard about this kind of thing on TV and in the papers, but it's different seeing it: the chick from 'Mean Girls' doing blow on the toilet next to me. She's not the same girl anymore. Something's changed. She's lost her way and seeing it is freaking me out."
Article continues below advertisement
Michael, who has previously admitted to alcoholism and cocaine use, sent RadaraOnline.com a statement to refute Richie's recollection of the incident, even though he was not at the venue with his daughter at the time.
"Yeah, right Nik, let me understand this! Walking into a women's room with you? Sitting on a toilet in front of you? Doing a line in front of you? Coming on to you? Okay. No wonder the title of your book is lies," the missive read.
"Nik, you are not a celebrity. Lindsay is. You are a blogger that likes printing dirt and lies about people. Even if it's second hand.
"I don't want to sling mud. I'm just calling a spade a spade. But one thing I will never let anyone do is lie about my daughter. When she's wrong she's wrong, but when she's right, she's right."
MiLo also took a swipe at Richie's own celebrity, suggesting his appearance on VH1's Couple's Therapy, alongside his estranged wife Shayne Lamas, didn't depict the true state of their relationship.
"You do Couples Therapy, making it look like everything is so fine and dandy, when you know its not," Michael noted.
Of Richie's claims, a rep for Lindsay — who is about to head to court ordered rehab — has said: "This is a clear obvious attempt at using Lindsay to boost book sales."