Lindsay Lohan Hits Up Coachella With Teen Brother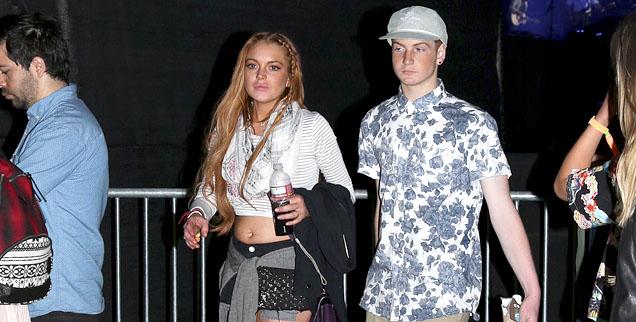 Lindsay Lohan is a woman of her word. She said she was going to Coachella, and she did.
As RadarOnline.com exclusively reported, LiLo insisted that as part of any plea deal on her lying to cops case, her lawyer keep her a free woman until after the annual Coachella music festival. He did and she's there.
The fest is two consecutive weekends, and began Friday night with Lohan -- wearing a midriff-baring top and short-shorts that showed off several ugly bruises on her legs -- was among the thousands attending.
Article continues below advertisement
The Mean Girls star has been attending ever year since 2010 and her "date" for the opening night of the 2013 festival was her 16-year-old brother Cody Lohan.
Her appearance at the Indio, CA event was dreaded by Lohan's good friend Claus Hjelmbak, who told us he "feared for Lindsay's life" if she attended.
"Lindsay is in a very dark place right now, and I'm absolutely scared for her life. Coachella is the last place she needs to be. For someone struggling with addiction, like Lindsay, the amount of drugs and alcohol at Coachella is just a recipe for disaster waiting to happen," Hjelmbak said.
Lohan has until May 2 to check into her court-ordered rehab program.