This Pen May Be Mightier Than The Sword! R-Pattz Gives K-Stew Lavish Birthday Present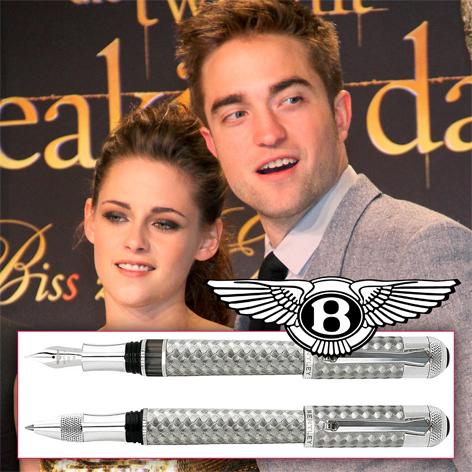 Here's a pen that could be mightier than the sword -- and far more expensive.
Robert Pattinson spoiled on-again, off-again girlfriend Kristen Stewart with a lavish birthday present for her 23rd birthday – a $46,000 white gold fountain pen!
"Kristen has always collected pens, and has a variety of stylish ones. Rob decided to go big for her birthday this year and brought her a limited edition white gold Tibaldi Bentley Crewe fountain pen," a source told British newspaper The Sun.
Article continues below advertisement
"He had her name specially engraved on it with the year and wording: 'From R'. There are only 40 of these pens in the world, so it's a real collector's item."
According to the report, the Twilight hunk picked the gift because of its British history.
"The pens have a two-tone 18-carat yellow gold nib covered in rhodium and ruthenium," the source explained.
"The barrel is identical to Bentley's dashboard used in their earliest car."
Robert, 26, also gave Kristen, 23, an antique bracelet.
And in a sign their relationship could be going to the next level, again, he's also mooted the idea of her moving back in with him.
"They've been taking it slowly, but Kristen has gradually won back his trust," a source said.
"Rob has taken a giant leap by officially suggesting they buy a love nest together."
As RadarOnline.com previously reported, Kristen is giving Robert the space he requires to rebuild their relationship.
"They are much happier at the moment because Kristen is listening to Robert's demands, even though it's killing her," a source revealed.
"She misses Robert when he's not around, especially since he was recently in Australia filming The Rover for over two months, but she's not pushing it."