Exclusive
K-Stew & R-Patz Love Affair Back On Track! She's Giving Him The Space He Requires!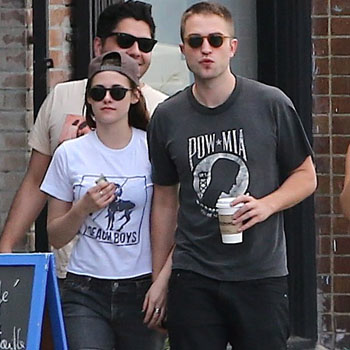 Kristen Stewart and Robert Pattinson are desperately trying to get their relationship back on track, and judging by the photo obtained by RadarOnline.com, they're headed in the right direction.
The Twilight Saga pair showed a rare display of public affection by holding hands as they took a romantic stroll in hipster enclave Silverlake in Los Angeles on Wednesday.
The two looked happy and relaxed in casual attire sporting vintage-style shades as Robert, 26, clutched a coffee from Casbah Café.
Article continues below advertisement
Kristen, 22, opted for a pair of denim shorts and showed her love for the Beach Boys by wearing a tight, white t-shirt with their name emblazoned on it.
However, despite the happy snaps by X17, Robert and Kristen are taking things very slowly, as per his orders.
RadarOnline.com has exclusively learned that despite this recent sighting Kristen is listening to Robert and is letting him live his own life too.
"They are much happier at the moment because Kristen is listening to Robert's demands, even though it's killing her," a source reveals.
"She misses Robert when he's not around, especially since he was recently in Australia filming The Rover for over two months, but she's not pushing it."
As RadarOnline.com previously reported, their meetings have been few and far between because Robert wants his own space to make their on-again-off-again relationship work.
"Kristen has insisted a few times that Robert should go out solo with his friends, which has meant he hasn't felt trapped," the insider continued.
"She realized that after the whole cheating scandal she became too clingy with Robert in her desperation to save the relationship.
"He was insistent that they didn't need to live in each other's pockets and she's beginning to be happy with that.
"It's given their relationship a new lease of life, but time will tell in the long run if they are meant to be together."