Happy Birthday, Kristen Stewart! See Her Transformation From Tomboy To Scandalous Bombshell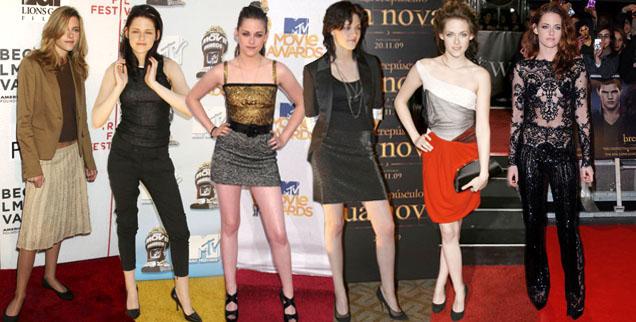 Kristen Stewart's come a long way in a short time!
The Twilight star, who rose to fame when the epic Vampire franchise debuted in 2008, is celebrating her 23rd birthday on Tuesday – and RadarOnline.com is celebrating her special day by highlighting her shocking transformation from tomboy to scandalous bombshell with a fun-filled photo gallery.
Getting her start as a child star in films such as Panic Room and In the Land of Women, Kristen didn't get international recognition until she won the coveted role as Bella Swan in the highly hyped movie version of the Stephenie Meyer series.
Article continues below advertisement
Overnight, a shy and causal Stewart was thrust into the public eye, but she was reluctant to trade in her boyish persona and tomboy style for the glitzy and glamorous Hollywood lifestyle.
Pretty quickly, Kristen, who was dating fellow actor Michael Angarano, was linked to her hunky Twilight costar Robert Pattinson, but no matter how hard the onscreen lovers insisted they were just friends, the truth came out eventually that their romantic relationship extended past the big screen.
As every installment of the Twilight franchise was released, Stewart's style evolved and transformed, and she started wearing sexier and more glamorous looks on the red carpet.
In 2012, Twilight's golden couple was rocked by scandal when Stewart was photographed locking lips with her Snow White and the Huntsman director Rupert Sanders, who was married with kids.
With her reputation as well as her relationship tarnished, Stewart furiously attempted to put her life and image back together, and after several months, she managed to reignite her romance with Pattinson.
With the Twilight franchise behind her, Stewart is now focusing on other acting gigs and is expected to appear in Focus, The Big Shoe and Snow White and the Huntsman 2 in the near future.
Happy 23rd birthday, Kristen Stewart!