Red Hot Mama! Kim Kardashian Stands Out In Fire Engine Dress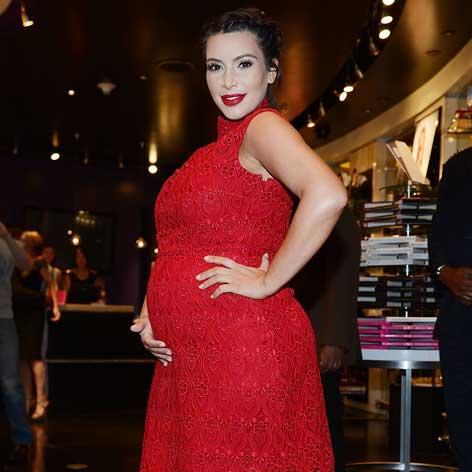 Kim Kardashian wore a maternity dress that could stop traffic when she made a promotional appearance in Las Vegas on Saturday.
The reality TV star and mom-to-be has been criticized for making questionable fashion choices when it comes to dressing her baby bump.
But if the critics are getting to her she didn't show it when she pouted and posed at Kardashian Khaos, the family's store at The Mirage Hotel in Vegas.
Article continues below advertisement
The Keeping Up With the Kardashians star cradled her baby bump – and her latest product, a perfume called Glam – while posing for photographers.
The 32-year-old, who is due to give birth to her baby with Kanye West, later this year squeezed her heavily pregnant body into a sleeveless, embroidered, figure-hugging dress.
Kim was apparently trying to achieve color coordination because the dress matched her lipstick and the bottle of perfume she was promoting.
With her hair scrapped into an elegant braided bun, she inadvertently revealed her heavily powdered jawline that was a completely different shade to her neck and the rest of her body.
Kim completed the look with gold shimmery glitter dusted over her arms and legs.