PHOTOS: Kim Kardashian Gets Bo Derek Braids For 'Turn It Up' Music Video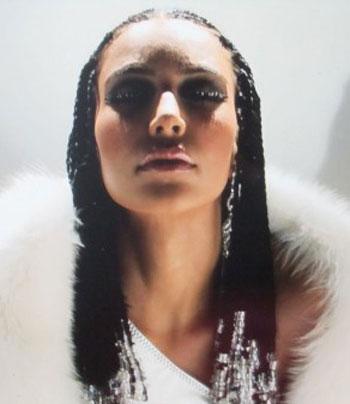 Kim Kardashian, who is currently shooting a music video for her debut single Turn It Up with The-Dream, took to her blog on Tuesday to show off her new video vixen look!
Hype Williams, who is directing the video, resurrected Bo Derek's iconic look from the 1979 classic 10, braiding the crazily curved reality show star's hair into tiny cornrows.
In the promo shot, Kim, who is wearing all white, also rocks bedazzled eyelashes.
Article continues below advertisement
"It took about four hours to do, and believe it or not I fell asleep!" exclaimed Kim on her blog. "I wish I could have worn it longer. We tried out a number of different looks in the video, and I'll be sharing the other looks with you guys here on my blog."
Kim's only performance of the new single, which was captured on camera on New Year's Eve in Las Vegas, has been viewed over 1 million times on YouTube.