Exclusive
Long-Distance Love Hurts: Kim Kardashian 'Miserable' She's Stuck In L.A. While Kanye West Working In Paris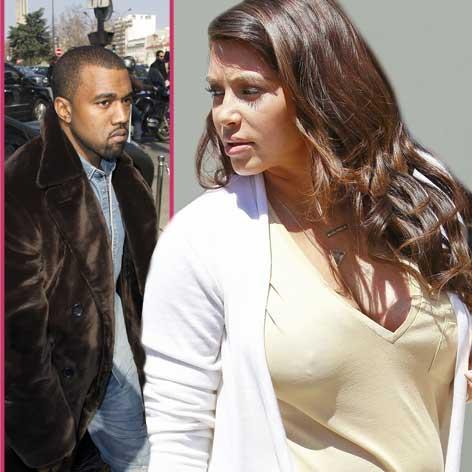 Long-distance love hurts.
That's what Kim Kardashian is discovering -- telling friends she is miserable because she is contractually obligated to remain in Los Angles to film the ninth season of Keeping Up With the Kardashians when she'd much rather be with her baby daddy Kanye West full-time in Paris, RadarOnline.com is exclusively reporting.
The rapper has been holed up in the City of Lights recording his new album, leaving Kardashian on her own in Los Angeles. Even though Kim has made several trips to Paris to see West, those trips have lasted only for a few days.
Article continues below advertisement
"Kim is absolutely miserable because she is contractually obligated to be in Los Angeles to film the upcoming season of her reality show," a source tells RadarOnline.com exclusively. "Of course, she can travel during that time, but the majority of her time has to be spent in L.A. Kim is the cash cow for the Kardashian family. Without Kim, there would be no reality show and spin-offs. She wants to be in Paris with Kanye, full time. She wants to call the shots in her life, and sadly, she isn't able to."
Article continues below advertisement
Kanye has only been photographed twice in Los Angeles this year; once on January 3, house hunting with Kim, and another on February 12, the same day they returned from Brazil, hitting a doctor's appointment with her before jetting back to Europe.
The sex tape star "feels very much like a single mom because she has been going to all of her prenatal check-ups without Kanye. She doesn't blame Kanye because he is in Paris for work," the insider says.
Kardashian reached a divorce settlement with Kris Humphries, but won't be legally divorced from him until June 19, at which time the formal agreement will be submitted to Judge Hank Goldberg. It's expected he will sign off on it, at which the former couple's marriage will be dissolved.