Good Girls Gone Bad! Kendall & Kylie Jenner's Get Scandalously Styled For The Rihanna Concert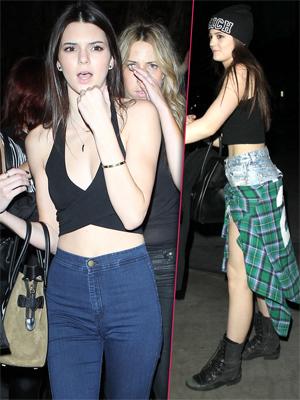 Kris Jenner, are you okay with this?
Teen models Kendall and Kylie Jenner are no strangers to sexy outfits, but Kim, Khloe and Kourtney Kardashian's little sisters definitely steamed up the Rihanna concert at Staples Center in L.A. on Monday night! Showing off their bare midsections in crop top outfits, the girls grabbed some major attention – and RadarOnline.com has the photos.
Kendall, 17, paired high-waisted jeans and combat boots with a skimpy, and incredibly low cut bra style wrap top, finishing off the look with her luxurious Celine bag, which retails in the thousands.
Article continues below advertisement
Kylie, 15, looked like she had taken some inspiration from the original Good Girl Gone Bad, channeling RiRi in shredded denim shorts, a black crop top, Kim's green plaid shirt, combat boots, a black beanie emblazoned with the words RICH, finishing off the out-of-character ensemble with her own black Celine bag.
"Yo guys we are here at Rihanna," Kendall exclaimed in a Keek video, doing her best valley girl impression. "Look, we are like the first ones here. So excited. Ready to party the night away at Rihanna."