From Co-Host To Cold Shoulder! Kelly Ripa Admits: I No Longer Talk To Regis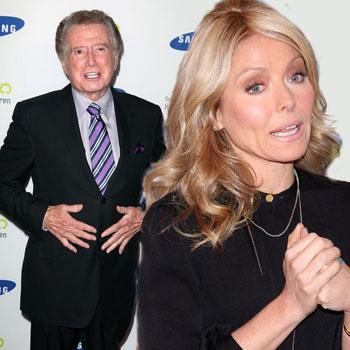 Kelly Ripa co-hosted Live! with Regis Philbin for more than 10 years but admits she's lost touch with the lovable TV personality.
The revelation came as the petite 42-year-old revealed she hadn't seen or spoken to the 81-year-old retired entertainment legend since he left the show in 2011.
Kelly, who was being honored by The Hollywood Reporter as one of the 35 Most Powerful People in Media, was asked if she kept in touch with Regis and shocked the room when she simply replied, "I haven't seen him, no."
Article continues below advertisement
The former All My Children soap opera actress became an instant household name when she famously replaced Regis' co-host Kathie Lee Gifford on the popular syndicated morning talk show in 2001.
Kelly now hosts the show with former NFL superstar Michael Strahan. Far from the cold shoulder Regis gets from her now, Kelly wept during his final telecast after 28 seasons as the face of the show.
Regis and Kelly's instant chemistry and hilarious and naturally flowing bantering was considered one of TV's best parings.
Regis Philbin: 'Contractual Issues Forced Me To Leave LIVE!'
"Kelly should have probably kept her mouth shut about not speaking to Regis since he left the show," an insider at Live! told RadarOnline.com.
"He's still so beloved and missed – her comment makes it seem that all those years their relationship was just an act."