Kardashians Ex-Step Mom: I Contributed $450,000 Of My Money To Rob's Education -- And Now He's Suing Her!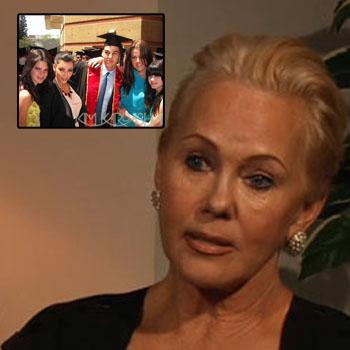 Talk about a twist of fate.
Before a lawsuit was filed against her by her four step-children, Ellen Kardashian (nee Pearson) admitted she'd spent almost half a million dollars to fullfil her late husband's deathbed wish: To enroll Rob Jr. into his father's alma mater, the University of Southern California.
Ellen recalled happily spending her own cold, hard cash to help Rob Jr. because his tuition had not been taken care of in the famed attorney's will.
Article continues below advertisement
"When there was no allocation for Robert's college, I freely contributed the money for him to go to USC," Ellen said in a Jan. 2012 interview, a transcript of which RadarOnline.com has obtained.
"I know Robert Sr. really wanted him to attend that school. That was one of his wishes."
The Keeping Up With the Kardashians star graduated from the USC's Marshall School of Business in 2009.
At the time, Khloe blogged about about how proud she was of Rob Jr. because her father, aunts, uncles and cousins had all attended USC.
"It was a day that made my family very proud," she wrote.
"Now my baby brother is SC alumni... I'm so proud that he went to USC and finished in four years. He has honestly grown up so much and learned a lot along this journey of his and our family is so proud of him."
However, one person who was missing from the photograph was Ellen, whom Robert Sr. married two months before he died of esophageal cancer in 2003.
Article continues below advertisement
In the lost interview, Ellen said she wasn't sure if Rob Jr. knew that she had covered his tuition fees. Nonetheless, she remembered a "great relationship" she once had with her stepson who she helped raise.
She said: "He lived with us. I participated in his school activities. We were very close. I would take him to school in the morning, make his lunch. We always had dinner together at night when my husband traveled. It was just the two of us, so we enjoyed it.
"I felt like a mom to him and I felt very special to him.
"I would go to school when he had teacher conference and he treated me with respect and bought me beautiful cards and made me feel very special on our special days, like Mother's Day and Christmas."
Robert Sr. even wanted Ellen to seek 50 percent custody of Rob Jr., she said.
"I have no regrets at all," Ellen insisted. "Spending time helping my husband raise Rob. No regrets. You know, we had a terrific time.
Article continues below advertisement
"I didn't have a special relationship with Kim, Kourtney or Khloé outside the fact that we traveled together and went on trips and had a great time."
Ellen now finds herself having to defend a lawsuit filed against her by the same person she helped get into college.
Rob Jr. along with sisters Kourtney, Kim, Khloé and their mother and manager, Kris Jenner, allege Ellen engineered a "despicable and unlawful scheme to hold in secret and convert, and now exploit ... private personal and copyright protected" material.
The E! stars claim Robert Sr., the attorney who became nationally known as a member of O.J. Simpson's criminal defense dream team, bequeathed the "bulk of his personal tangible and intangible property" to his children, including a personal journal -- a document in which he reportedly wrote how Kris once beat and kicked Kim when she was just eight-years-old.
That journal and photographs have since appeared in magazines such as Star, In Touch and Life & Style, however are copyrighted and belong to the children, according to the Kardashians' lawyer.