Kardashian's Ex-Step Mom: I Have 500 Family Photographs And The Kids Didn't Want Them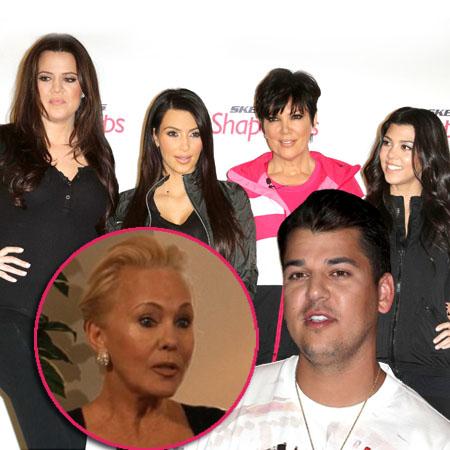 A never-before-published interview sheds new light on the legal claims of Kim, Kourtney, Khloé and Rob Kardashian, who are suing their former stepmom, Ellen Pearson, over personal possessions belonging to their late father, Robert, including a photograph and journals.
Pearson, who Robert married two months before he died of esophageal cancer in 2003, reveals the E! reality stars never wanted the 500 family photographs they've now claimed they own the copyright to, RadarOnline has learned exclusively.
Article continues below advertisement
As we previously reported, the Kardashian clan along with their mother and manager, Kris Jenner, filed a lawsuit in California federal court last Thursday, alleging that Pearson has engineered a "despicable and unlawful scheme to hold in secret and convert, and now exploit ... private personal and copyright protected" material.
The reality royalty claim Robert, the attorney who became nationally known as a member of O.J. Simpson's criminal defense dream team, bequeathed the "bulk of his personal tangible and intangible property" to his four children, including the patriarch's personal journal -- a document in which he reportedly wrote how Kris once beat and kicked Kim when she was eight years old.
However, Ellen says that Kourtney, Kim, Khloé and Rob had the chance to take the belongings now at the center of the court case, but chose not to.
Instead, "the children took photographs that were hanging on the wall," Ellen said in the interview with Star magazine last year, a transcript of which RadarOnline has obtained.
"All of the photographs that I'd taken... none of the children asked me for photos."
Article continues below advertisement
She recalled how the children "ransacked" their father's home after it was sold and took many of his possessions -- but not the photos.
"I had everything itemized in the home for the children so that they knew when I moved everything would be intact of their father's," Ellen said.
"When the house sold, the real estate agents let them come in the day before it closed escrow and they brought friends with them.
"They took the art off the walls, pulling things down out of closets and (the realtor) had to stop them. It was total mayhem."
In the lost interview, Ellen admitted she "must have 500" photographs which featured Robert and the children, including from past Christmas's, a vacation to Hawaii and the last Father's Day the children spent with their dad.
"Those are the important ones," she said.
Their snub confused Ellen, at the time, because she admitted she thought the children would have wanted to remember their father with the family album. Instead, she concluded "the only thing I could think of was that possibly had a few photos."
Article continues below advertisement
Adding to her bewilderment, Ellen said Kim, now 32, made the odd request to film Robert's final moments alive while he was on his deathbed.
"Kim came over... I think both of her sisters were there at the time and we were in the back room (at Robert's house)," she recalled.
"It was not too long before he passed and she brought her video camera and wanted to take video of him. I would not let her do it. I said, 'No. Your father would not want to be remembered in this condition, nor would I want anybody to ever see that.'
"I would not let her take video footage.
"I don't know why Kim would want to video her father in the condition that he was in. I would hope she would have wanted to remember him with all the beautiful photographs."
According to the Kardashian's high-powered lawyer, Marty Singer, the photographs -- which have since appeared in magazines such as Star, In Touch and Life & Style -- are copyrighted and belong to the children.
In the suit, he argued the family photo albums are "incontestably" their inheritance and property.
"The Kardashians and Kris Jenner have filed a suit against Ellen Pearson for taking personal property belonging to them by virtue of Robert Kardashian's will and by virtue of copyright protection," Singer said in a statement.
He added that the "filing should serve as notice that they will vigorously defend their rights when forced to do so."