Exclusive
Joe Jonas' Girlfriend Using Him For Fame -- 'She Doesn't Even Like Their Band,' Says Pal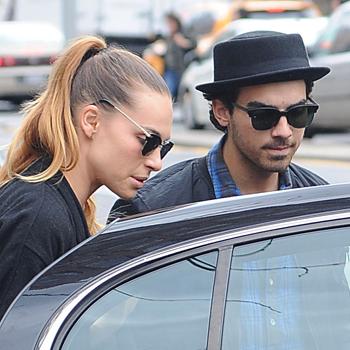 Joe Jonas' girlfriend is with him just for the fame and a pal of Blanda Eggenschwiler exclusively tells RadarOnline.com she doesn't even like the Jonas Brothers or their music!
Joe, 23, has been dating Blanda, 28, for nearly six months but friends close to the aspiring model say she has changed as a person since dating the famous Jonas and has become "fame hungry."
"Blanda can't get enough of the attention she's receiving now that that's dating Joe and she actually believes she's famous now," the pal exclusively told Radar.
Article continues below advertisement
"She told me, 'I don't even like their band. I just go to their show, appearances and meet-and-greets so the fans will talk more about me and buy my products.' She's all about herself lately and expects Joe to shower her with public attention."
According to the source, Blanda used to be a nice girl, but has become completely consumed by fame.
"She walks around acting as if she owns everywhere that she steps. She wouldn't even hang out with her friends much at Coachella because she was worried she would miss a paparazzi opportunity," the source continued.
VIDEO: Jonas Brother Perform For The Obamas At The White House
"She's never in New York anymore working on her career. Her life is pretty much dedicated to paparazzi shots, and her addiction to the attention she gets from his 12-year-old fans."
And not only does the pal say Blanda is using Joe for the spotlight — but they claim she's controlling his every move!
"Blanda has a lot of control over Joe and his actions," the insider told Radar.
MORE ON:
Celebrity Romance
Article continues below advertisement
"She continues to brag about how she has so much control over him and she tells him when he can and cannot see his mom. To her, everything should be about her."
Sadly, the pal thinks the entire relationship will end badly for both Joe — who will eventually realize he was used — and Blanda, who will be left only with her fleeting 15 minutes of fame.
"She's given up her full time career to follow Joe around from state to state or country to country," the source concluded.
"Blanda lives to be in front of the camera and that's not the girl I used to know. I wish she would see the person she has become and what she has turned him into."