Prosecutor Demands Jodi Arias Stop Tweeting From Jail!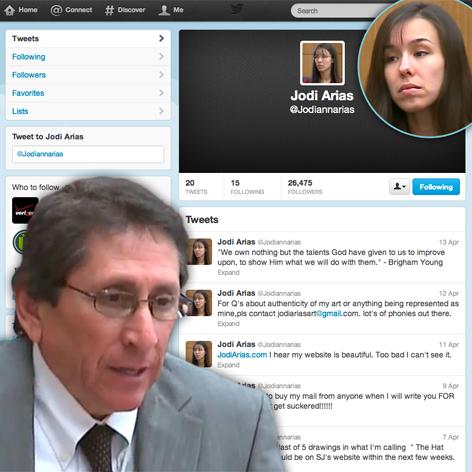 Jodi Arias' controversial Twitter account was finally addressed during her trial for murdering Travis Alexander Monday morning, and RadarOnline.com has all the explosive details from the hearing!
Without the jury present, Jodi's defense team asked the judge to declare a mistrial because of prosecutorial conduct but Deputy County Attorney Juan Martinez informed the court of the Twitter account she accesses from behind bars.
Article continues below advertisement
"I'm asking court to issue an order to force her to stop," Martinez said about the Twitter account.
As RadarOnline.com previously reported, Jodi's friend Donavan Bering has been speaking with her from behind bars, and is writing the Tweets for her.
"She is discussing the case and she's a witness," Martinez argued.
"What the media and public choose to believe I have no control over that," he said. "The defendant does have control."
Jodi's attorney Kirk Nurmi argued that his client is not breaking the law with the Tweets.
"She has freedom of speech rights as does anyone else."
Judge Sherry Shepherd denied the defense's motion for a mistrial based on prosecutorial misconduct.
She said she would take "no action with regard to the defendant allegedly Tweeting from jail," since she is under the supervision of the Maricopa County Sheriff, who has said they are unable to stop her from Tweeting.
"We do talk about the fact that Jodi seems to be able to reach out into the community in various ways and profit from her notoriety. We don't like it… but there is nothing we can do about it," MCSO spokesperson Lisa Allen said.