Jodi Arias 'Original Art' Dubbed Fake! She Copies Print Ads For Profit!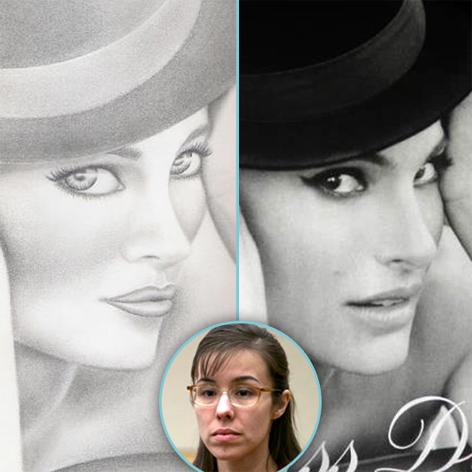 Jodi Arias is not known for her honesty, and now the controversial "original artwork" that she has been selling has been revealed to be blatant copies from print advertisements!
One picture that popped up for sale was a woman in a hat that Jodi titled the "The Hat Series" and bore a striking resemblance to Travis Alexander's sister, Tanisha Sorensen, who has been in court every day watching the murder trial and hoping for justice for her brother.
Article continues below advertisement
However, it looks like the coloring isn't of Tanisha after all and is actually a replica of a 2013 Miss Dior print ad with Natalie Portman in the photo, the Justice for Travis support site first reported.
Subsequently, Jodi has released more pictures for sale on a fan website, many of which resemble other ads.
A black and white drawing of a cowboy in a plaid shirt and 10-gallon hat kissing a blonde woman in plaid shirt seems to be Jodi copying of a 2013 Guess advertisement.
A photo of a mouth with bright red lips and white teeth biting a pill is also reportedly a common photo but Jodi has changed the color of the pill from orange to blue.
Jodi is seen in court frantically coloring in her black and white notebook during the legal proceedings, and she has been in trouble repeatedly behind bars for hiding pens in various places in her cell, including under her sink and in a shampoo bottle.
Article continues below advertisement
However, she wrote on her Twitter page, that her friend Donavan Bering is moderating for her while she is behind bars, that eBay has banned her artwork from being sold.
Jodi has been selling her pencil drawings for thousands of dollars, a move that the Maricopa Sheriff's department says they are not pleased about, but that there is nothing they can do to stop it before a verdict is reached in the trial.
One more witness will be testifying for the defense this Wednesday and Judge Sherry Stephens said that the closing arguments will begin on Thursday.