It's Not Easy Being A Working Mom! Ivanka Trump Suffers From 'Mom Guilt' Every Morning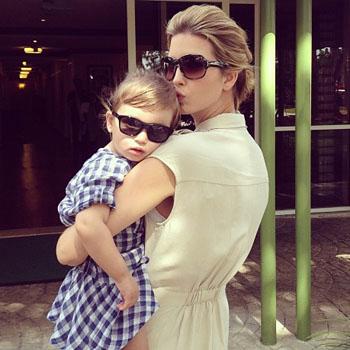 Ivanka Trump manages to juggle motherhood with an ambitious career, but it isn't easy!
The only daughter of Donald Trump reveals in the May 2013 Redbook that she feels a bit guilty every time she leaves her nearly 2-year-old daughter, Arabella Rose, at home and heads to work five days a week – and RadarOnline.com has the details.
"Oh, every morning I'm so sad to leave Arabella," the 31-year-old responds when asked if she feels guilt as a working mother. "But it's important for me to continue what I'm doing. It's fulfilling to me, and I think it makes me a better mom when I'm home."
Article continues below advertisement
Despite her demanding career, Ivanka insists that her role as a mother is much more strenuous than that in her family business.
"Incidentally, I hate the expression 'working mom,' because when I'm with Arabella on the weekends, I'm much more exhausted on Monday morning than I am on Friday night! I think the expression 'working' versus 'non-working' implies that a mother who stays home doesn't work. It's far more difficult than anything I do in the office."
Trump keeps a sense of normalcy in her family by engaging in family traditions, such as making a "proper eggs breakfast" on Tuesday mornings for her husband, Jared Kushner, and Arabella, having Arabella join her for lunch ever Wednesday at noon, and running home for work every evening from 6 p.m. until 7:15 p.m. to give herdaughter a bath, read her books and put her to bed, before returning to theoffice and finishing her work day.
For more on Ivanka Trump, pick up the May 2013 issue of Redbook.