Is Marriage Next For Chelsea Hander? She Looked Like A 'Love-Struck Teenager' During Date, Says Spywitness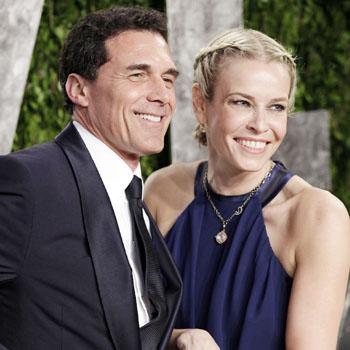 Could Chelsea Handler be following her best pal Jennifer Aniston down the aisle?
The Chelsea Lately host and her on-again, off-again boyfriend Andre Balazs looked the picture of happiness at the Hotel Bel Air last weekend, an eyewitness told RadarOnline.com.
The pair couldn't keep their hands off each other!
"They looked like love-struck teenagers as they cuddled up at the table in the restaurant of the Hotel Bel Air," the onlooker said.
Article continues below advertisement
"Chelsea and Andre both ordered food, but they hardly touched what was on their plate. Instead, they kissed and he played with her hair and showered her with a lot of attention.
Handler, 38, was clearly very relaxed around Andre; she even dressed down for the occasion, wearing sweat pants and no make-up!
"They couldn't have had a care in the world and seemed made for one another," the onlooker added.
During a Feb. 18 appearance on The Ellen DeGeneres Show, Handler opened up about her relationship with the wealthy hotelier.
"We can talk about my boyfriend," she told DeGeneres, when asked about 56-year-old Balazs.
"I love him. He's the best."
However, she did admit their two-year romance had been "rocky."
"But I love him," she said. "I'm trying to blossom into womanhood. You've been in a relationship for a long time, so you're a little bit probably more mature."
In a 2011 interview with Piers Morgan Handler played coy when she was asked about the courtship.
"I've learned to respect somebody else's privacy," Chelsea explained.
"It's not about me, because obviously I would like to make fun of him as much as possible, but he has kids, so I have to be nice."