Inside Florida Reform School Where 100 Abused Boys Were Buried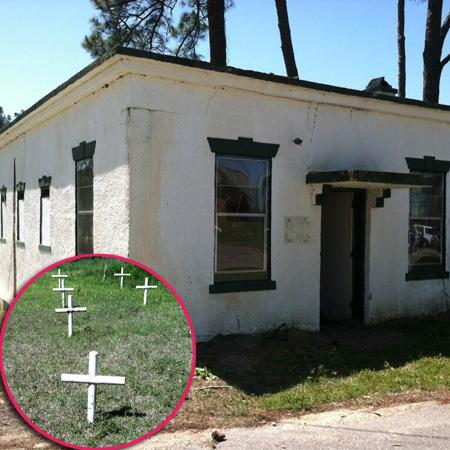 The infamous "White House" at a Florida reform school where the bodies of 100 students may be mysteriously buried has been opened up to the media for the first time, and RadarOnline.com has photos of the chilling mass grave.
The cold images were captured during a tour of the former Arthur G. Dozier School for Boys in Marianna by U.S. Sen. Bill Nelson as he attempts to get funding for a $3 million federal grant program to help identify the dead boys who died from alleged abuse and were then disposed of on the grounds, reported Fox 13 in Orlando.
Article continues below advertisement
The grim discoveries were made over recent months on the 1,400-acre grounds of the school, which is about 60 miles west of Tallahassee, that was purportedly the flashpoint of beatings, rapes and murders dating back nearly a century.
During its dark legacy that lasted from 1900 until 2011, Dozier School's sinister reputation was notorious among locals.
"It was kind of known, 'You don't want to be sent to the boys' reform school,'" revealed the senator, whose family would pass it as they drove to see relatives in the Florida Panhandle.
University of South Florida anthropologists led by Dr. Erin Kimmerle have previously found at least 50 grave sites on the grounds and suspect there may be as many as 100.
As RadarOnline.com previously reported, the grisly search was sparked by repeated stories of shocking abuse, especially when boys were sent to the so-called White House, a cinder block building on the property.
During a 2009 investigation, many former students claimed that most of the missing had died from abuse, but it did not clear up the mystery of where their bodies were and no criminal charges were filed.
The grant that Sen. Nelson is fighting to get approved is categorized by the Department of Justice as: "Using DNA Technology to Identify the Missing." The deadline for the application is May 6 and two to four awards are expected to be given.