Trouble On The Set: Heidi Klum's Accent Too Thick For 'America's Got Talent'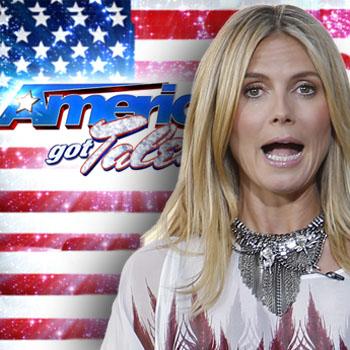 Cheryl Cole, round two?
Just like the Geordie singer who was ousted from the FOX talent show The X Factor because executives judged that viewers could not understand her, producers of NBC's America's Got Talent are concerned their latest high-profile recruit, supermodel Heidi Klum, is going to be a flop -- because her German accent is too thick!
"Heidi might as well be speaking German because the contestants are having trouble understanding what she is saying," a production insider told RadarOnline.com.
Article continues below advertisement
"It's quickly becoming a problem because producers are having to stop filming and ask Heidi to try and articulate what she is saying in a slower, more concise manner.
"Her critiques often fall flat leaving those auditioning with a look of bewilderment and confusion."
But one source says it's all a misunderstanding and that Heidi was simply having fun a one point, putting on an extra-thick accent.
Despite reports that Klum's judging costar, former Spice Girl Mel B was constantly being booed by the audience and struggling, our sources say that's not the case.
"First of all, if the judges aren't getting booed, something is wrong," the source said.
"AGT thrives on audience participation and it's encouraged. Look at Howard Stern, before he opens his mouth, he gets flak from the audience and it's all in good fun.
"Mel has been a judge on The X Factor in Australia and has made a smooth transition to AGT. Producers love her wit and she delivers great one-liner."
Season 8 of America's Got Talent is currently in the midst of auditions and just wrapped tryouts in New York City.
A Klum spokesperson denied there are any problems with the gorgeous model being understood on the set.
The next round of auditions will take place in Los Angeles, next week.
The show will premiere on June 4, at 8pm.