If You've Got It, Flaunt It! Charlie Sheen Splashes $4.8 Million On Beverly Hills Mansion: Take A Peek Inside!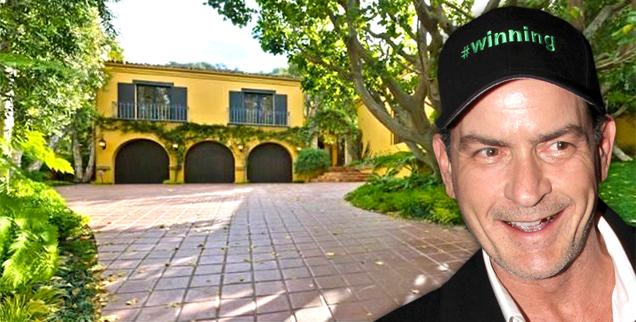 So that's where his Anger Management salary is going!
Charlie Sheen has splashed out $4.8 million of his hard-earned cash on a Spanish villa-style home in the exclusive Mulholland Estates gated community in Los Angeles where he already owns two homes, RadarOnline.com is reporting.
The 6,625 square-foot property has five bedrooms, six bathrooms, a formal dining room, a library, dining room, theater and gourmet kitchen.
Article continues below advertisement
There is also a large pool, as well as a spa area and a spacious outdoor kitchen.
Sheen, 47, reportedly purchased the home from Tom Gores, the owner of the Detroit Pistons, who bought the mansion from his brother Sam Gores in 2006 for $5.7 million.
Back in 2006, Sheen paid $7.2 million for his first home in the private estates. Then, in 2011, he added to his property portfolio buying another home for just under $7 million.
Generous Charlie has been freely spending his cash of late. He recently gave troubled star Lindsay Lohan $100,000 to pay off her $233,904 tax bill.
But he soon became peeved with an ungrateful Lohan, 26, for not thanking her for bailing her out.
"She got shorted and I found out, so I said, 'Here.' I'm still waiting for a text to say thank you. Anything, you know?" he said.
Despite that, Lindsay's mom Dina says Charlie and Lindsay are the best of pals.
"Lindsay continues to feel an immeasurable respect and love for her dear friend Charlie Sheen. They have a deep bond and she has expressed privately her sincerest gratitude to Charlie for his immense generosity on her behalf," she said.
"She and I are deeply appreciative for his kindest of gestures. Charlie you are a true gentleman."