Peace In Our Time? Brandi Glanville Claims She Is Not At War After LeAnn Rimes Says Kids Call Her 'Mom' -- But Then Again. . .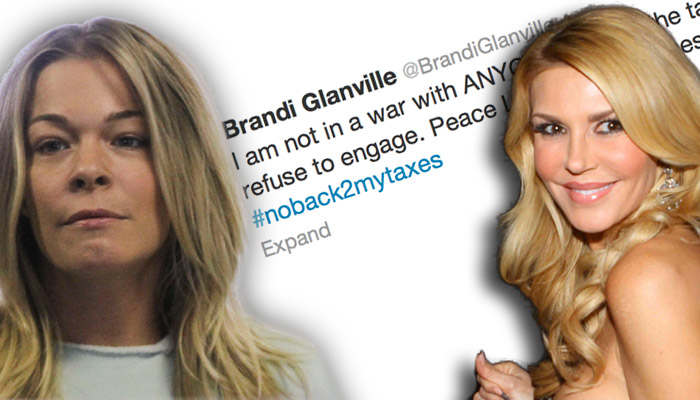 Brandi Glanville refuses to engage in drama with LeAnn Rimes.
Well, that's what she says!
After the country star, who stole Eddie Cibrian away from the Real Housewives of Beverly Hills star when they were married and had two kids, told Fabulous magazine that Brandi's kids, Jake and Mason, sometimes call her "mom," the reality star sounded off on Twitter that she isn't suiting up for battle – and RadarOnline.com has the details.
Article continues below advertisement
"I am not in a war with ANYONE (maybe the tax man)," Brandi, who recently complained that Rimes "doesn't have any boundaries" when it comes to her children, tweeted. "As I promised I refuse to engage. Peace Love and Happiness people."
That sounds good but can these two really stop taking digs at each other?
Apparently not. Because just minutes after declaring peace, Glanville bragged about the success of her book, Drinking & Tweeting — which is filled with stories and comments about LeAnn (and not complimentary ones).
"Notice the New cover? #1 New York Times BESTSELLER!!! Love u people!!! Still pinching myself!"
"It's been really difficult," LeAnn responded to the magazine when asked about dealing with Brandi's outspoken comments concerning her.
"You have to stand up for yourself and be your own person, but at the same time you have to protect these children and their hearts. And that's a very tough balance."
Do you believe that Brandi Glanville isn't in a war with LeAnn Rimes? Sound off below.