Fences Keep Brandi Glanville From LeAnn Rimes At Son's T-Ball Game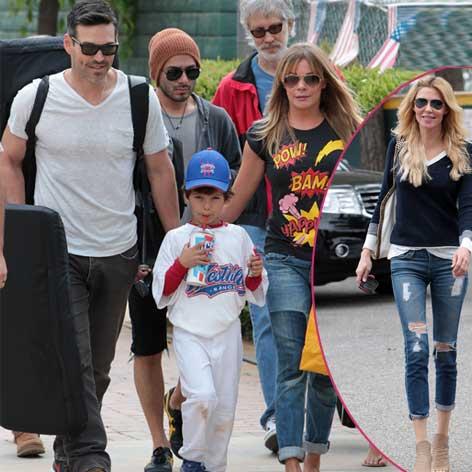 It was as though a lit match was hovering over a box of fireworks when a certain Hollywood family went to watch a little boy play T-ball on Saturday.
But despite their Twitter battles Brandi Glanville and LeAnn Rimes refrained from scratching each other's eyes out as they both cheered on son and stepson (respectively) Jake Cibrian at his T-ball game.
Jake arrived at the field with LeAnn and hubby Eddie Cibrian .
Article continues below advertisement
Brandi came separately and alone but The Real Housewives of Beverly Hills star maintained her composure as her ex-husband and his current wife LeAnn watched the game just yards away from her.
At one point – as our photos show – she leaned over the fence to give her son some encouragement.
Of course, by that time, LeAnn and Eddie were cuddling in the stands!
Meanwhile, on Twitter – which is normally the battleground upon which both women hurl insults at each other – they gushed about caring for little Jake.
Perhaps referring to her stepson Jake who turns six on Monday, LeAnn, 30, tweeted: "I think the best compliment of my career/life was having a 6 year old ask/demand for me to sing happy birthday!"
The night before she wrote: "There is a little man in our house who will not be sleeping much tonight because he's too excited about his bday party tmrw!!"
Mommy duties were also keeping Brandi busy. She tweeted about getting ready for the birthday party, saying: "Making up gift bags for the kids to take home later! Fun fun!"