No Wonder He Can't Keep A Girlfriend! Bradley Cooper Admits That He Lives With His Mom Gloria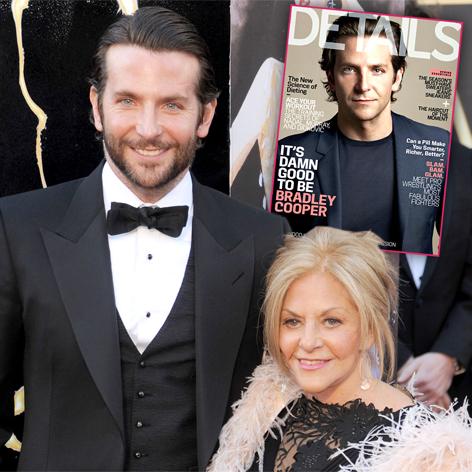 Bradley Cooper may be a grown man and paid in the millions for every movie he stars in, but he still lives with his mom!
The Silver Linings Playbook star, 38, whose recent split from actress Zoe Saldana had to do with his overbearing mother Gloria, admits in the May 2013 issue of Details that he has been living with mom for for a few years – and RadarOnline.com has the details.
Cooper reveals that his mother moved in with him a few years ago, after the passing of his father in January 2011 due to cancer.
Article continues below advertisement
"Let's face it: It's probably not easy for her, by the way, to be living with her son," he admits. "It's life. And right now, two years after my father's death, this is where we are. My family is very close, and my dad dying was brutal for all of us. It was a schism, and its aftershock has not stopped. And we need each other. So here we are."
Despite having amassed a fortune from his successful career, Cooper keeps a somewhat small home, and his mother sleeps right next to him!
"But don't get me wrong. It's not without complications. It's not like I live in a compound and she's in the guesthouse. No. She's in the next room. But here's the thing: She's a cool chick. We can hang, and she can roll with the punches. If that wasn't the case, there's no way."
Do you think it is bizarre that Bradley Cooper sleeps in the room next to his mother? Sound off below.