Exclusive
Neighbors From Hell: Furious Locals Accuse Brad Pitt And Angelina Jolie Of Destroying Fragile Californian Coastline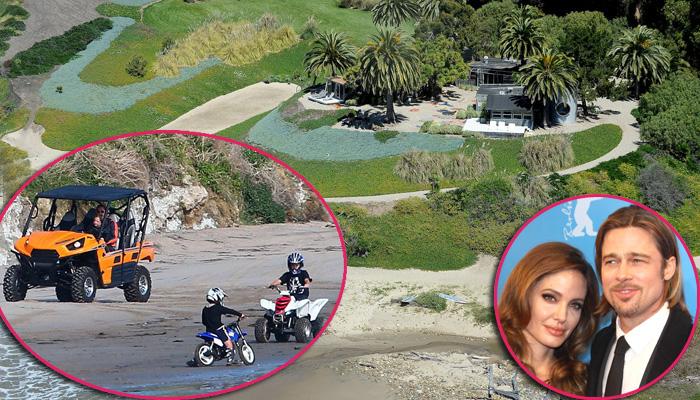 Brad Pitt and Angelina Jolie's neighbors have labeled the Hollywood power couple "reprehensible" and "irresponsible" after they were caught illegally tearing up beaches on gas-powered racing vehicles and motorbikes along one of America's most fragile coastlines.
Pitt, 49, was photographed on Easter Sunday teaching son Knox how to drive while Maddox and Pax rode small motorbikes on the beach near their multi-million dollar Santa Barbara, Calif. ranch.
Article continues below advertisement
But therein lies the problem for the superstars -- their vehicles are prohibited by state regulations.
"I am not sure if it is illegal to drive on the beach in Santa Barbara County but it is certainly reprehensible," concerned neighbor and local environmentalist Ken Palley told RadarOnline.com.
"It is massively damaging to the environment and we'd hope the people who own houses on the shoreline acted more responsibly."
And it's not the first time the couple has annoyed local residents, who claim they've been bullied off the state beach by the Pitt-Jolie security team.
"I've heard of neighbors complaining about being bullied off the state beaches," Mike Lunsford, president of the Gaviota Coast Conservancy, told RadarOnline.com.
"I think they have some over-zealous security people who have legitimate concerns about their safety and paparazzi invading their privacy... but there have been incidents where people have been just going for hike and one friend was rudely accosted."
Article continues below advertisement
Pitt and Jolie, 37, have a coastal ranch next to Gaviota State Park where the beaches are some of the most naturally preserved areas in the world.
The couple's decision to teach their large brood how to burn rubber is all the more perplexing given they both are devoted human right activists and environmentalists!
Said Lunsford: "It's a rare gem, the Gaviota coastline -- and there's not many places left in the world like it."
"On state beaches, only lifeguard or rescue vehicles can drive on them," he added. "I saw the pictures, I wasn't surprised, he probably didn't know it was against the law. But he shouldn't be doing it."
Other neighbors would only speak on the condition of anonymity because of a fear of reprisal if they criticized the high-powered family.
"This is another example of some rich ***** who thinks he's cool," one said.
Article continues below advertisement
"Maybe he just doesn't realize what harm he could be doing and what a bad example it sets. However, it is probably not legal and is definitely not cool."
Another furious resident went even further, charging: "Neighbors have all complained because Brad started trying to keep them off the beach below his house there. This is a beach that is everyone's and they've enjoyed it for years."
He added, "Brad Putt treats neighbors as if it is his beach now and he's been bullying everyone. He's pi**ed them all off. Maybe it's time that Mr. Pitt gets a visit from the county."
And the Fight Club star may well expect a visit from council regulators.
"It's a protected habitat," a source at the Santa Barbara County Council confirmed, pointing to Santa Barbara County Beaches and Parks Code, which prohibits vehicles on beaches.
"Plus, it's Californian law that the beaches are owned by the public below the knee high tide line."