Controversial TV Commentator Blames Boston Marathon Bombings On Muslims, Calls For Death: 'Let's Kill Them All'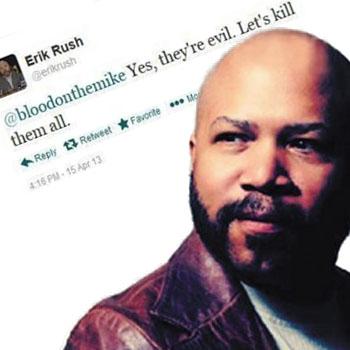 Outspoken pundit Erik Rush – famous for being the first to break the story of Barack Obama's ties to militant preacher Rev. Jeremiah Wright – took to Twitter to call for all Muslims to be killed in the wake of the deadly Boston Marathon explosions.
Hours after attacks, Rush, who often appears as a TV commentator, crudely tweeted: "Everybody do the National Security Ankle Grab! Let's bring more Saudis in without screening them! C'mon!"
Article continues below advertisement
When one of Rush's follower's responded and asked if he was already blaming all Muslims, Rush viciously replied: "Yes, they're evil. Let's kill them all."
Later, he tweeted that he was being sarcastic.
"Sarcasm, idiot," he wrote to one critic.
The two explosions went off right before the finish line around 3 p.m. today, causing chaos and confusion throughout the city.
So far three deaths have been confirmed, one an 8-year-old boy, with the number of injuries now up to 132.
Despite being quick to call his comments a joke, Rush has since taken down the offensive tweet.
A person of interest is reportedly being held by police while anti-terror efforts have been beefed up in major cities and landmarks around the country.
According to sources, Rush may have taken the tweet down, but he's getting a kick out of the controversy.
"This is exactly how Erik likes to stir up controversy," a source close to Rush told RadarOnline.com.
"His crude and outrageous comments are nothing new for him."