Caught On Tape! Ashley Judd Attacked For Being 'Emotionally Unbalanced' By Senator's Campaign Staff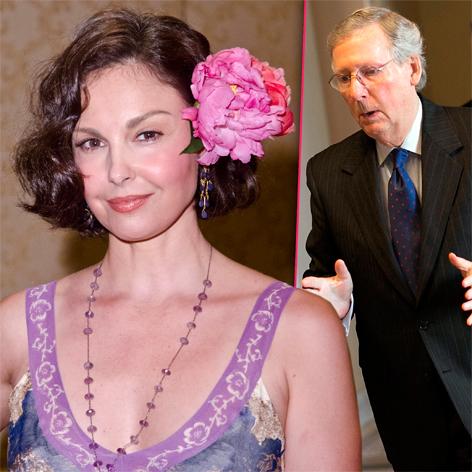 A private campaign meeting between Kentucky Senator Mitch McConnell and his 2014 campaign re-election staff was secretly recorded with actress and potential campaign foe Ashley Judd called "emotionally unstable" and worse during the meeting.
McConnell and his staff are heard planning how to use Judd's history of mental illness against her in a campaign.
"She's clearly, this sounds extreme, but she is emotionally unbalanced," one person is heard saying. "I mean it's been documented....she's suffered some suicidal tendencies. She was hospitalized for 42 days when she had a mental breakdown in the 90s." (Judd revealed that in her memoir.)
Article continues below advertisement
The now not-so-secret recording was made on February 2 and released by liberal magazine Mother Jones. McConnell has asked the FBI to investigate how the tape was made and leaked and the FBI has confirmed it is looking into the matter.At one point, the Senate GOP leader described the digging up of dirt against the actress as "the 'Whac-A-Mole' period of the campaign," referring to the popular arcade game where innocent fluffy rodents are mercilessly hit on the head with mallets.
"When anybody sticks their head up, do them out," McConnell instructed his aides with a laugh while meeting at his Louisville, Kentucky, campaign headquarters. One person in the meeting says Judd will be the first target because she is a "haystack of needles" and "such a wealth of material."
As RadarOnline.com previously reported, the 44-year-old activist revealed last month that she is not going to run for office this time, but didn't rule it out in the future. "Perhaps someday I will be. However, with the help of my pastors and mentors, I have thoughtfully and prayerfully concluded that I won't run for the United States Senate at this time," she announced on her website.
Article continues below advertisement
The Double Jeopardy star, who separated from her race car driver husband, Dario Franchitti, earlier this year, cited wanting to spend more time with her family as her reason for putting political aspirations on hold, but she didn't bow out before slamming her biggest rival. "It's time Kentucky had an alternative to the cynical politics and self-serving tactics" of incumbent McConnell.
In the malicious meeting, the campaign group played soundbites from Judd, which they either rip apart politically or mock for their stupidity, describing her views as: "clearly sort of anti-sort-of-traditional American family."
"I still choose the God of my understanding as the God of my childhood. I have to expand my God concept from time to time, and you know particularly I enjoy native faith practices, and have a very nature-based God concept," Ashley can be heard saying.
"I'd like to think I'm like St. Francis in that way. Brother Donkey, Sister Bird," she added, which causes a burst of hysterical laughter from the room, and the comment being slammed as, "That's my favorite line so far." Judd was also criticized for being pro-abortion, an advocate of gay marriage and President Obama.
Article continues below advertisement
"I call it the American anesthesia. You know, I come back to this country. I freak out in airports. The colors, the sounds, all those different ways of packaging the same snack but trying to, you know, make it look like it's distinct and different and convince consumers that they have to have it," she chatters about in another recording aimed to make her sound like a space cadet.
"I mean all of that. The last time I came home from a trip, I absolutely flipped out when I saw pink fuzzy socks on a rack. I mean, I can never anticipate what is going to push me over the edge."
Judd, meanwhile, blasted McConnell for his dirty campaign tactics and said she expected nothing less from his camp "than to take a personal struggle such as depression, which many Americans cope with on a daily basis, and turn it into a laughing matter."