Ashley Judd: I'm Not Running For Senate … Yet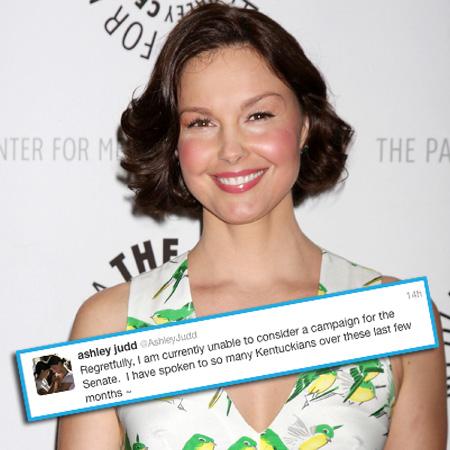 Ashley Judd says she won't be running for a spot in the U.S. Senate, representing Kentucky.
"Regretfully, I am currently unable to consider a campaign for the Senate," Judd tweeted Wednesday. "I have spoken to so many Kentuckians over these last few months who expressed their desire for a fighter for the people & new leader.
"While that won't be me at this time, I will continue to work as hard as I can to ensure the needs of Kentucky families are met by returning this Senate seat to whom it rightfully belongs: the people & their needs, dreams, and great potential.
Article continues below advertisement
The beautiful Double Jeopardy star, 44, continued, "Thanks for even considering me as that person & know how much I love our Commonwealth. Thank you!"
Judd -- who said she wanted to spend more time with her family -- expounded on her decision not to run in a post on her website, saying, "It's time Kentucky had an alternative to the cynical politics and self-serving tactics" of incumbent Kentucky Sen. Mitch McConnell.
"It would be the greatest honor of my life to be entrusted as a public servant to our beloved Kentucky," wrote Judd, who separated from race car driver Dario Franchitti earlier this year.
"Perhaps someday I will be. However, with the help of my pastors and mentors, I have thoughtfully and prayerfully concluded that I won't run for the United States Senate at this time."
Fun fact: Other screen stars to delve into politics include former Minn. Gov. Jesse Ventura, former Calif. Gov. Arnold Schwarzenegger, and late U.S. Pres. Ronald Reagan.