'American Idol' Branded 'Sad Failure,' Seven Reasons Why This Season 'Sucks'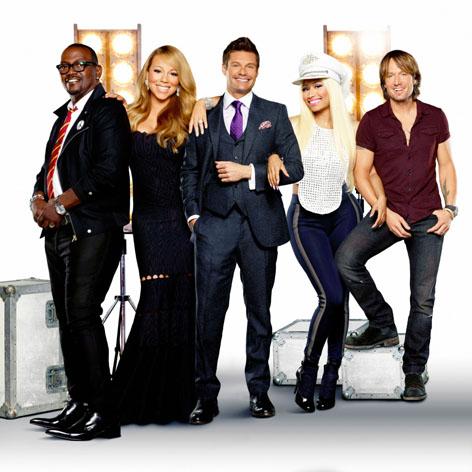 It's an award winning show with two of the world's most famous divas on it's judging panel but the latest season of American Idol has pulled in it's lowest ratings ever.
The talent show - which once averaged over 30 million viewers an episode has dropped to 11.48 million - and has been branded a 'sad failure' by The Daily Beast critic Ramin Setoodeh who has broken it down to seven reasons why the Fox show "sucks."
Article continues below advertisement
From bad judges to talentless contestants this season is flagging and here's why:
1. Too Much Competition
When it launched in 2002 American Idol was THE talent show to watch. Twelve years down the line and it's competing with The X Factor , The Voice , America's Got Talent and Duets.
2. Bad judging
The diva combo of Nicki Minaj and Mariah Carey has spelled disaster. The pair barely acknowledges one another and refuse to speak. Laid back Keith Urban has been accused of 'lulling the audience to sleep' and Randy Jackson is still telling contestants, 'that just wasn't good dawg' 11 seasons down the line.
3. Mariah Carey Doesn't Care
As a global singing phenomenon Mariah Carey was expected to pull out all the stops when she was picked to judge. Instead however her praise has been vague and her comments such as 'Darling you know I love you always' are said to lack personal connection. Shakira has stolen her thunder as a new reality show singing judge. "She leaps up and hugs her new recruits. Mariah will sometimes refuse to participate in a standing ovation because her dresses are too tight," writes Setoodeh.
Article continues below advertisement
4. Boring Contestants
This season's contestants have been forgettable too. With so many singing talent shows to chose from it's not surprising the talent pool is a little watered down.
5. Bad Themes
Despite the show targeting teens and tweens The Daily Beast calls the themes "old" and "excruciating."
6. Cheating?
The show hasn't had a female winner in nearly six years. In fact there have been so many embarrassing male singer's this season there are only two left in the running, sparking speculation it was set up for a female winner.
7. Too Long
Two and a half hours every week is a lot of time to commit to a show.
Let us know what you think about the current season of American Idol in the comments section below.