Taylor Swift's Boy Issues Hit Jeopardy!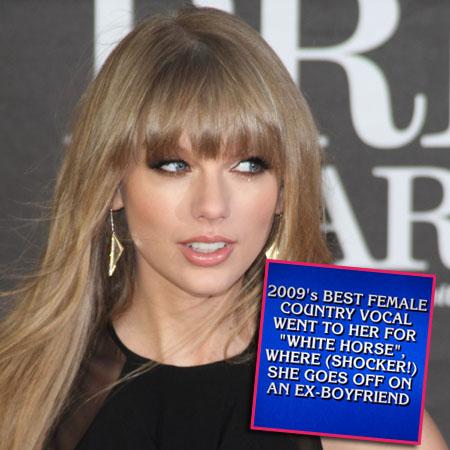 Taylor Swift's love life is officially trivia fodder.
On Wednesday's Jeopardy!, a question (with her as the answer) read, "2009's best female country vocal went to her for 'White Horse,' where (SHOCKER!) she goes off on an ex-boyfriend."
Ouch -- Of course, the recognition the 23-year-old gets for her high-profile relationships has practically eclipsed her mega-successful musical career, as her list of exes includes Harry Styles, Conor Kennedy, John Mayer, Jake Gyllenhaal, Joe Jonas, Taylor Lautner and Cory Monteith.
Article continues below advertisement
Last week, funny lady Chelsea Handler speculated the We Are Never Getting Back Together singer can't keep a man because she's not willing to have sex with any of them.
"Every guy thinks they're going to devirginize her, and they're not," Chelsea said. "She's never going to get devirginized, ever, ever, ever, ever!"