Real Mean Girl Of Orange County! Tamra Barney Sinks Claws Into Gretchen Rossi, 'Have You Heard Her Sing?'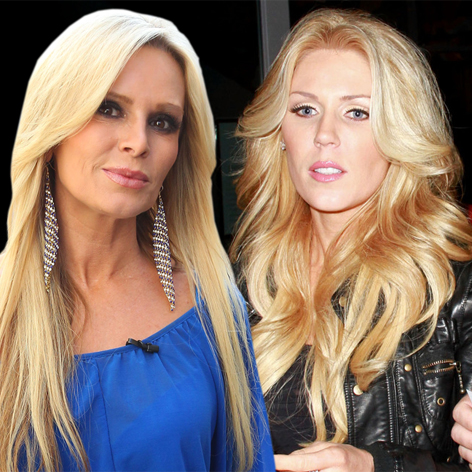 Article continues below advertisement
"It made me open my eyes and question, 'is this really what I want in a friend?' I'm not saying we're enemies, by any means - I still talk to her, but some things definitely come to light."
When asked who her favorite Housewives singer is, Tamra doesn't sit on the fence — and let's put it this way, Gretchen does NOT make the grade!
"None! They all suck!" she retorts.
Even Gretchen?
"Yes! Have you heard her sing? Are you going to argue with me? No Housewives should sing! I think the only one that kind of has a voice is that Melissa Gorga ….. Kind of," Tamra concedes.
"But Heather Dubrow is a singer. She used to do it as a profession. She used to be a wedding singer and she had a big band that she sang with. She even used to sing at Disneyland. She's extremely talented, but doesn't want it to be a joke."
Tamra also has some words for viewers who think that she comes across as a b***h on the Bravo reality TV hit.
"Sometimes people are afraid of the truth. I was hired to do a job and my job was to be real," Tamra explains.
Article continues below advertisement
"I am not on the show to show the viewers what I want to show them. I show them what true life is. I don't get up there and think 'Oh, I'm not going to say this because I want everybody to love me.' No, that's not who I am.
"I was given a job and I'm doing it well. Andy Cohen refers to me as 'the perfect Housewife!' I take my job very seriously and when I sign a contract asking me to be real, I'm going to be real. If you're going to do something stupid, I'm going to call you out. That's what I'm here to do. I am not here to make friends and I tell every single one of the girls that. I'm here to do a job.
"I have Housewives from other franchises calling me and asking me 'how do you do this?' or 'how do you balance this?' and I say this: 'I don't lie, I don't cheat, and I don't exaggerate.'
"What you see me do is be honest. That's what I'm here to do. If I could I would ask to only show my purse line, or request to get my hair done every day, but that's not reality. I do have a sarcastic side and Bravo only shows a certain percentage of you, so if that's all they show… They don't see me as a mom. They don't see a lot of my life. You do see a lot of sarcasm because they love my one-liners."